MICHELIN Guide Collaboration
Chef Vicky Lau
Elevating the art of plating. Chef Vicky Lau from Michelin Star restaurant MORA, takes pasta to the next level with her innovative approach. A culinary masterpiece, her Rigatoni Gratin features a light and creamy fermented tofu and clarified butter sauce. Crowned with fresh shrimp tartare and a hint of zesty lime juice, the flavors perfectly complement the smooth and opulent aromas of Rémy Martin XO.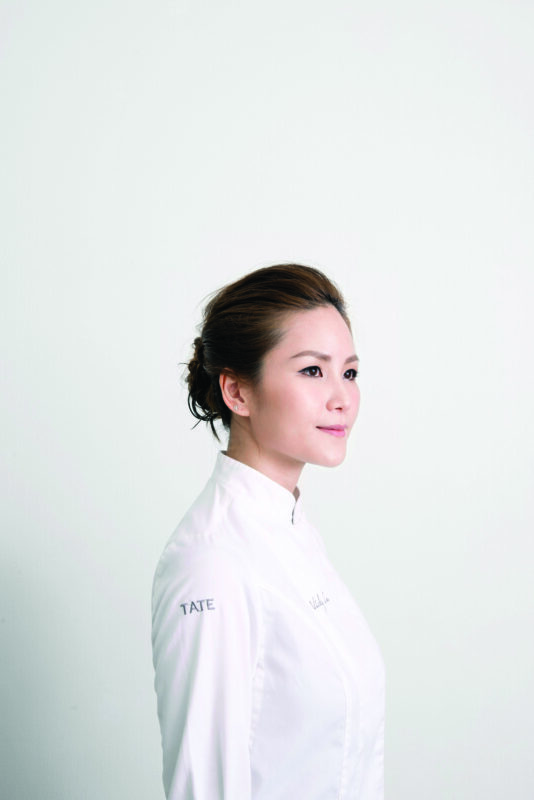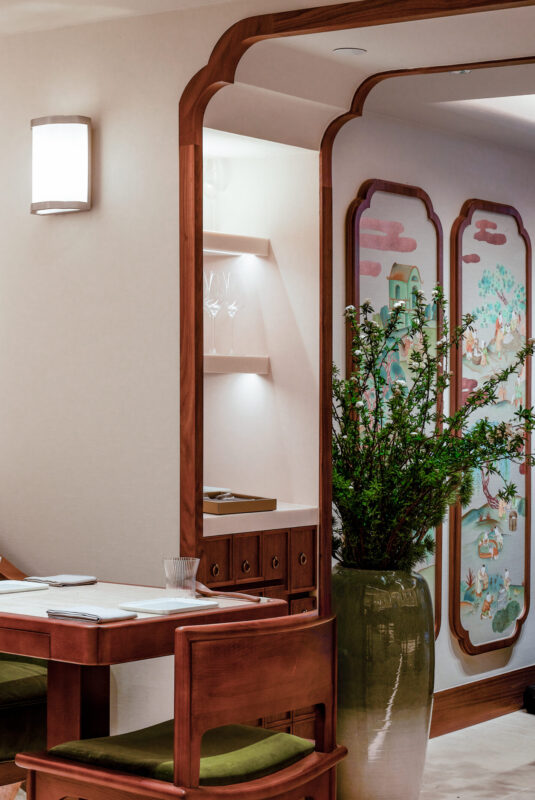 GRATIN OF RIGATONI WITH FERMENTED TOFU SAUCE AND RED PRAWN TARTARE PAIRED WITH RÉMY MARTIN XO BY CHEF VICKY LAU
About Chef Vicky Lau
After graduating from New York University, Vicky Lau initially embarked on a career in advertising as a graphic designer. The knowledge she gleaned during this phase of her life taught her how subtle visual cues can be used to provoke an audience's response, a skill she would later employ in her cooking. Sparked by her passion for the culinary arts, Lau enrolled in classes at the prestigious Le Cordon Bleu in Bangkok. Now with a new career path, chef Lau honed her skills at the Michelin-starred Cépage in Hong Kong under the tutelage of chef Sebastien Lepinoy.
In 2012, she opened Tate Dining Room serving French-inspired dishes with Asian influences from her upbringing in Hong Kong. Her talent for visual artistry is reflected in the immaculate presentation, while her innate creativity and appreciation for gourmet cuisine is evident in the seasonal tasting menu.
In 2013, Vicky's skill and artistic talent allowed Tate Dining Room to be awarded with one MICHELIN star by the prestigious MICHELIN guide Hong Kong Macau – the first of two MICHELIN stars she would achieve eight years later, in 2022.
Right at the start of 2015, Vicky was awarded the Veuve Clicquot Asia's Best Female Chef voted by World's 50 Best Restaurants, for her signature menu of 'Edible Stories' at her French-Chinese restaurant, a reward that marked her as one of the globe's most influential female chefs.
In January 2021, Chef Vicky Lau was awarded with 2-Michelin stars by MICHELIN Guide Hong Kong Macau 2021 and is the first female Chef in Asia to receive such accolade and remains the undisputed queen of innovative French-Chinese fine dining in Hong Kong. In the same year, she was ranked #49 by Best Chef Awards 2021, making her the top-ranked chef of Hong Kong and was also awarded the Visionary Women Award 2021 by Harper's Bazaar Hong Kong, Women of Power 2021 by Prestige Hong Kong and Asia's Most Influential List by Hong Kong Tatler.
Following the successful launch of MORA in July 2022 , Chef Vicky Lau continued her journey into the world of soy with the introduction of An, a new soy-based collection of sustainable gourmet and lifestyle products.
Your impression of Rémy Martin XO? ​
Growing up in Hong Kong, I was always intrigued by the reputation of Rémy Martin XO as a prestigious cognac, often regarded as a sort of elixir among adults. Despite hearing these impressions, I was pleasantly surprised by the richness and complexity of its flavor profile when I took my first sip. It truly is a harmonious blend of aromas, with distinct notes of ripe fruits, spices, and oak. The smoothness and lingering finish of Rémy Martin XO make it a luxurious choice, whether enjoyed on its own or paired with culinary creations.
Why did you use this product, and not another one from our range (such as Tercet)?
I selected Rémy Martin XO for this specific recipe because its depth and complexity perfectly complement the flavors and ingredients involved. Considering the exceptional richness and complexity of this cognac, I wanted to incorporate something pungent and fermented tofu seemed like an intriguing choice. The recipe required a spirit that could elevate the overall taste experience, and Rémy Martin XO precisely offered the right balance of flavors to enhance the dish. While there are other excellent options within the Rémy Martin range, like Tercet, Rémy Martin XO aligns specifically with the desired flavors and culinary vision for this recipe.
How does your recipe and its ingredients match with Rémy Martin XO? What flavours are revealed?​
What flavors are revealed? I think the highlight of this pairing is in its complexity and umami elements. Rémy Martin XO and fermented tofu both bring layers of depth and richness to the table. Rémy Martin XO, with its combination of ripe fruits, spices, and oak, adds sophistication and depth to the pairing. On the other hand, fermented tofu contributes its distinct umami rich flavor. The interplay of these complex flavors creates a captivating and dynamic culinary experience that is both intriguing and satisfying.
«The recipe required a spirit that could elevate the overall taste experience, and Rémy Martin XO precisely offered the right balance of flavors to enhance the dish.»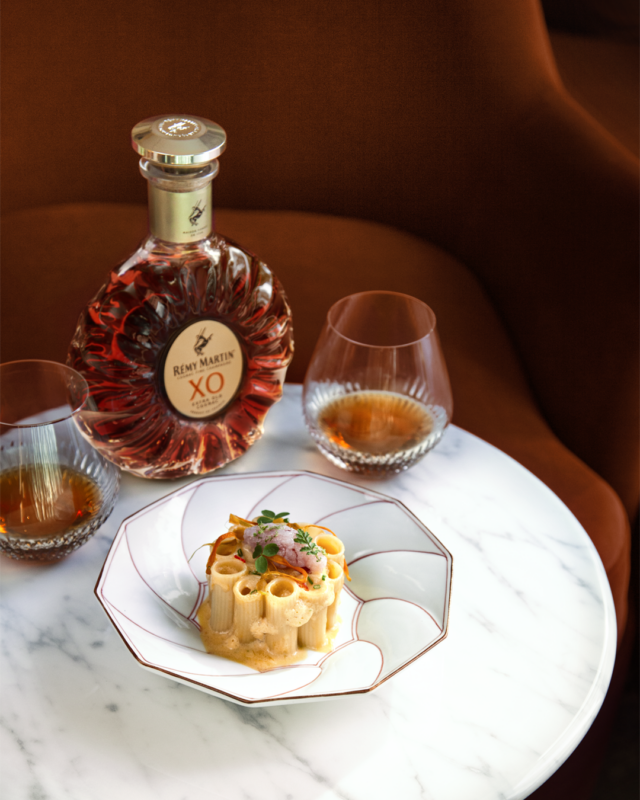 GRATIN OF RIGATONI WITH FERMENTED TOFU SAUCE AND RED PRAWN TARTARE PAIRED WITH RÉMY MARTIN XO BY CHEF VICKY LAU
INGREDIENTS
YIELD: 4 SERVINGS
250g Rigatoni
80g clarified butter
50g cold Butter, unsalted
1pcs whole egg
1pcs eggyolk
45g fermented tofu
5g lime juice
1g lime zest
1pcs chilli, small
36g red prawn
Step 1:
Start by preparing clarified butter. Melt unsalted butter over low heat, allowing it to separate into foam, clarified butter, and milk solids. Skim off the foam, then carefully pour the clarified butter into a container, leaving behind the milk solids.
Step 2:
Clean and chop shrimp to tartare and marinade with Remy Martin, season with salt as needed. Put aside.
Step 3:
Place a large pot of salted water over high heat and bring to a boil.
Step 4:
In a blender, blend together the eggs, yolk and fermented tofu together on low for 2mins.
Step 5:
With the blender running on low, slowly pour in melted clarified butter and butter into the eggs. Sauce should be light and creamy. Add in lime zest and lime juice to finish.
Step 6:
Add pasta to the water and boil until a bit firmer than al dente. Drain out all water when ready and stir in fermented tofu sauce.
Step 7:
Presentation:
Dress the pasta on plateware and gratin the top in an oven or under a salamendar. Top off with prawn tartare. Serve immediately, dressing it with a bit of additional lime juice.
Serve with Rémy Martin XO.
Share your version with us 👉 Tag @remymartin and @michelinguide and use #TeamUpForExcellence and #MICHELINGUIDEATHOME
The Collection
Discover all our Cognacs