recipe | January 14, 2022
Collaboration with the Michelin Guide
Every month, to inspire a more sustainable gastronomic experience, Rémy Martin and a Michelin Green-Starred chef will reveal an exclusive, seasonal recipe to pair with cognac.
As global partner of the Michelin Guide and exclusive supporter in the wine and spirits category of the Michelin Green Star, Rémy Martin is advocating for sustainable gastronomy across the globe.
As part this collaboration, Rémy Martin is teaming up with Michelin Green-Star chefs worldwide to create a dozen eco-friendly dishes to pair with Rémy Martin Cognacs Fine Champagne – 12 easy recipes to make at home.
Thanks to their creative flair, these committed culinary artists, from a diverse range of countries and food cultures, are bringing fresh inspiration to fine dining and a whole new world of flavours to Rémy Martin Cognacs Fine Champagne.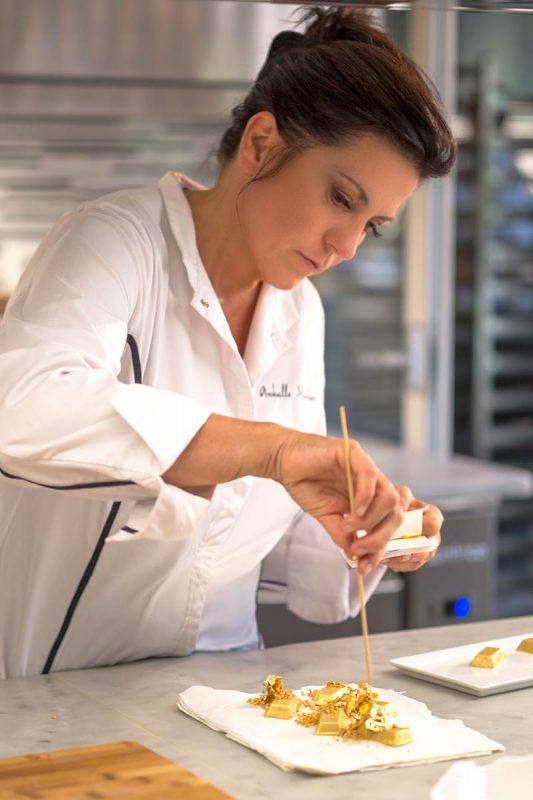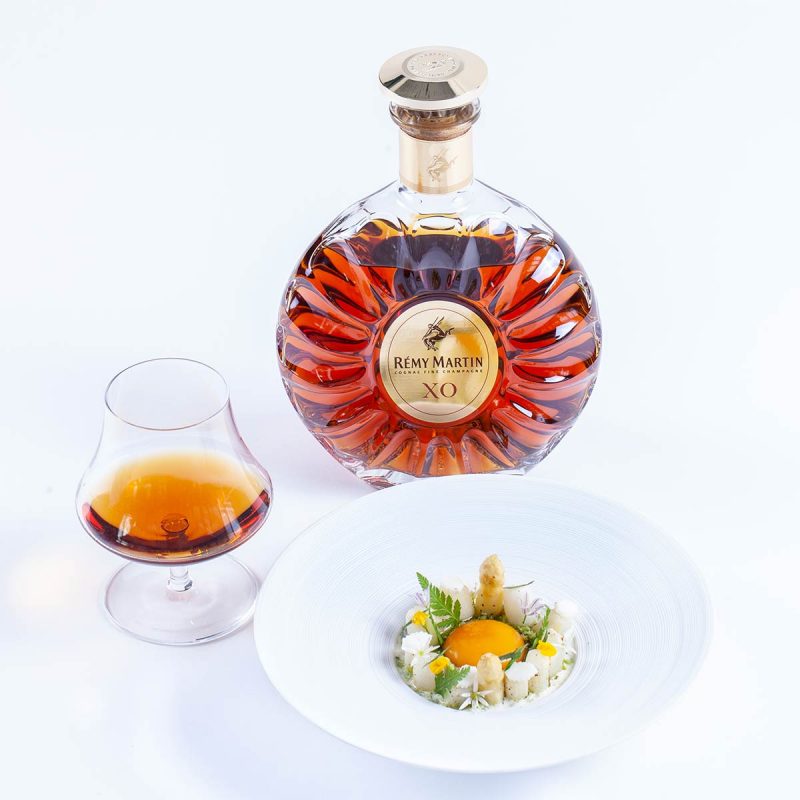 White Mechelen asparagus with bear garlic, egg yolk confit with Remy Martin 2019s cognac XO by chef Arabelle Meirlaen
About chef Arabelle Meirlaen
As a teenager, Arabelle studied fashion and interior design until her family relocated to the heart of the Ardennes. Then came Arabelle 2019s enrolment at the Libramont Catering College. Urged on by her mother a dab hand in the kitchen Arabelle shifted her focus to honing her culinary skills.In 1999, she took over Li Cwerneu. This cosy restaurant is located on the square, to the right of Huy 2019s town hall. Over time, Arabelle single-handedly created a sleek, contemporary look for the space, transforming it into a fully-fledged dollhouse for experimental food lovers. Year after year, Arabelle Meirlaen stays up-to-speed with the latest techniques and products by attending conferences and training sessions.
A keen learner, she works closely with a herbalist on wild plants, studying their properties, tastes and associations. Meanwhile, Arabelle keeps a close eye on local produce and rare garden vegetables and herbs. Combining new and old techniques, Arabelle 2019s cuisine is flavourful, fun, and at times, fanciful. Inspired by childhood memories and her intuition, Arabelle 2019s light and feminine dishes strike an emotional chord with a touch of poetry.
Check out the full recipe here, and Rémy Martin XO, and share your version with us 👉 Tag @remymartin and @michelinguide and use #TeamUpForExcellence and #MICHELINGUIDEATHOME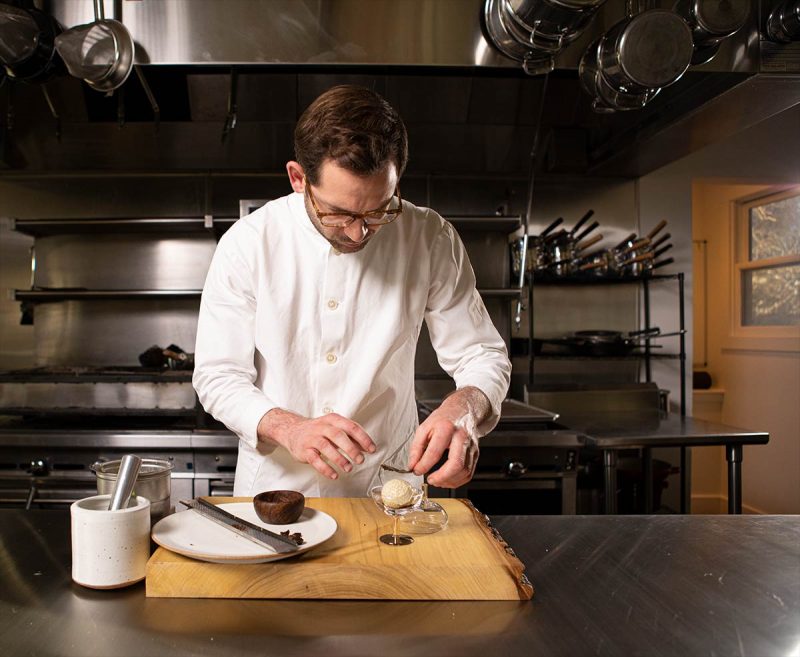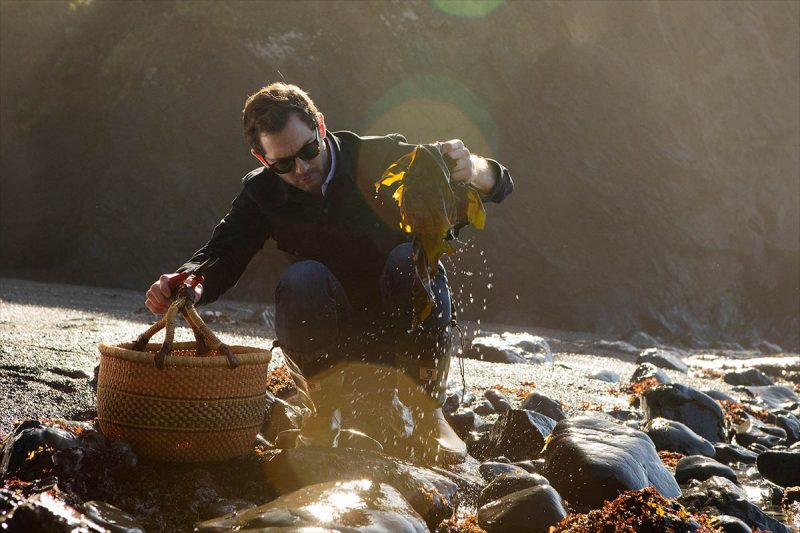 Wakame Ice Cream by chef Matthew Kammerer
About chef Matthew Kammerer
Matthew Kammerer is the Chef of The Harbor House Inn, a historic property on the Mendocino Coast built in 1916. Reopened in 2018 with Matthew Kammerer on the helm, he oversaw its transformation into a dining destination as the region's first and only two Michelin-starred restaurant. The daily changing menu is defined by the bounty from its own farm, along with seafood and vegetables sourced from the coastline and inland forests, as well as animals raised by Mendocino County farmers, then cooked simply using fire, steam and smoke.
Matthew Kammerer's endeavors have resulted in accolades including a 2019 Food & Wine Best New Chef and multiple James Beard Award nominations. In October 2020, Matthew Kammerer received a Green Star award from the Michelin Guide to become "the first class" of restaurateurs in America.
Wakame Ice Cream
"This dish represents our vision of dessert in keeping with the ethos of our property. The wakame comes from the cove beneath the restaurant so it's as local as possible. Every summer, our sea vegetables are hand harvested by the kitchen team in a sustainable manner to make sure year after year the crop comes back. The ice cream is toasty, nutty, and slightly salty which pairs really well with Rémy Martin."

Check out the full recipe here, and Rémy Martin XO, and share your version with us 👉 Tag @remymartin and @michelinguide and use #TeamUpForExcellence and #MICHELINGUIDEATHOME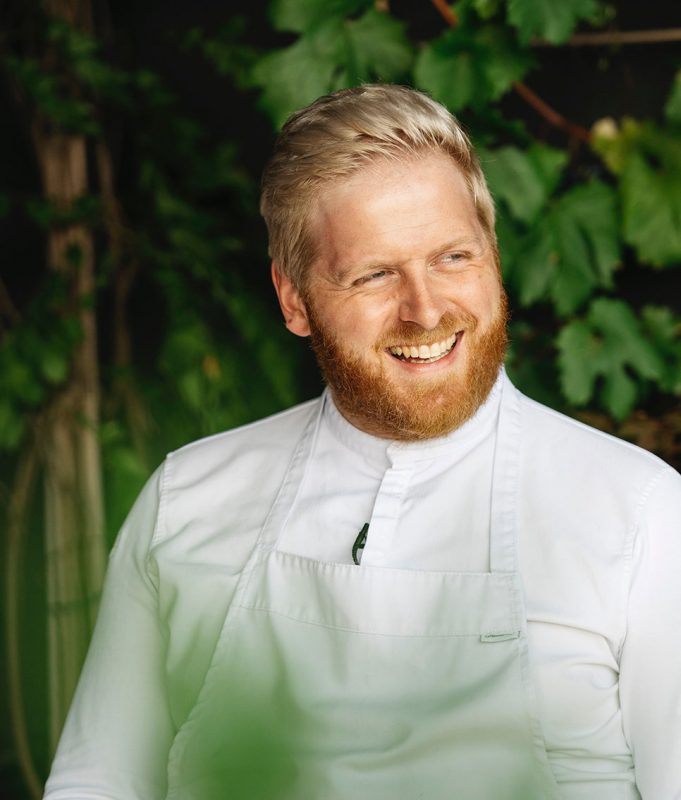 Rehydrated Red Cabbage to pair with XO by Ricky Saward
About chef Ricky Saward
Chef Ricky Saward started his career with an apprenticeship at a classic restaurant in his hometown Weseke (NRW). To expand his knowledge in cooking, he then moved first to Vienna, where he worked in a 5-star Hilton Hotel, and then to Sydney, where he worked for Luke Mangan, one of Australia's leading chefs, at Glass Brasserie. After a short stop in Frankfurt he won the young chef exchange program that gave him the opportunity to work in the best restaurants in New Zealand, such as Rata (Queenstown), Logan Brown (Wellington), Merediths and Clooney (Auckland). Back in Frankfurt he was offered his first head chef position at the vegetarian restaurant Seven Swans. In 2019, the concept was switched from vegetarian to vegan, to be more sustainable including self produced vegetables from permaculture. Since January 2021, Ricky Saward is also one of the two owners of the restaurant.
Rehydrated Red Cabbage
A very profound earthy dish with rich umami notes that demonstrates how much flavor you can get out of simple vegetables without the use of spices or animal products. With a nice balance of a fruity sweetness and acidity, notes of caramel, dried fruit and liquorice it pairs perfectly with Rémy Martin XO.
Check out the full recipe here, and share your version with us 👉Tag @remymartin and @michelinguide and use #TeamUpForExcellence and #MICHELINGUIDEATHOME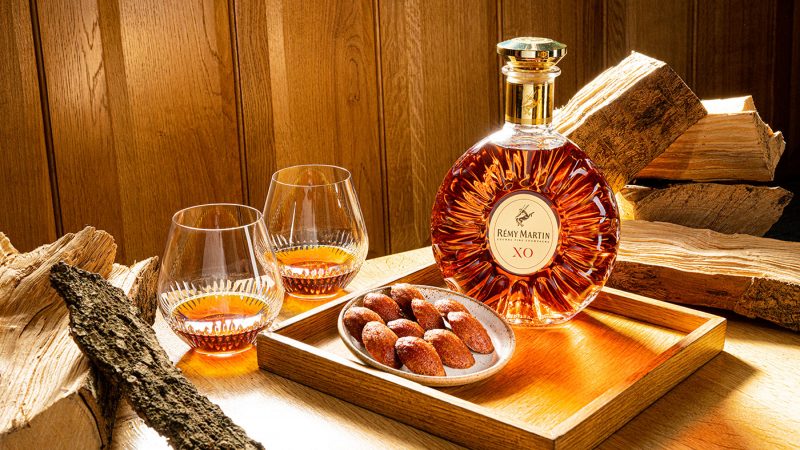 Miso Madeleines with Yorkshire Rhubarb Glaze to pair with XO by Tommy Banks
About chef Tommy Banks
Tommy Banks is one of the UK's most acclaimed chefs, owner of two Michelin-starred restaurants Black Swan in Oldstead, Roots in York, as well as his premium food delivery business Made In Oldstead and canned wine brand Banks Brothers.
The restaurant at The Black Swan first won a Michelin Star in 2012 under previous Head Chef Adam Jackson. When Adam Jackson left in 2013, Tommy Banks took over, retaining the star, and at the age of 24 became the youngest chef to receive a Michelin Star.
After several wins on The Great British Menu on BBC One in 2016 and 2017, Tommy Banks went on to publish his award-winning, debut cookbook "Roots" in 2018. In 2018, Tommy Banks and business partner Matthew Lockwood opened the family's second restaurant, Roots, in the centre of York. The restaurant is a tasting menu format, showcasing the same farm and garden produce that is harvested and transported from the farm daily. In January 2021, Roots was also awarded a Michelin Star, becoming the first restaurant in York to hold the accolade.
In March 2020 Tommy Banks and Matthew Lockwood launched Made In Oldstead, a premium food box delivery service. This was launched primarily to help pay suppliers and staff unable to be furloughed after the temporary closure of their restaurants due to COVID-19. However, in July 2020, they announced that the food boxes will remain a permanent fixture to the business, delivering multi-course menus to homes across the UK every week.
Following the success of Made In Oldstead, in 2021 Tommy Banks launched Banks Brothers Drinks, now one of the leading purveyors of canned wine from some of the best growers and vineyards across the globe.
Miso Madeleines with Yorkshire Rhubarb Glaze
Tommy Banks created this recipe for a French traditional cake to pair perfectly with another French classic – Rémy Martin XO cognac.

Check out the full recipe here, and Rémy Martin XO, and share your version with us 👉 Tag @remymartin and @michelinguide and use #TeamUpForExcellence and #MICHELINGUIDEATHOME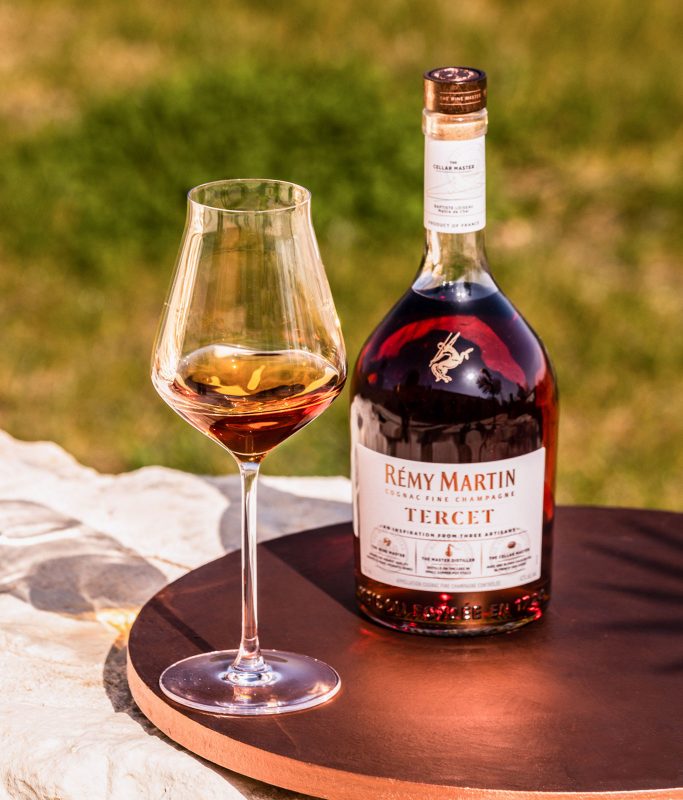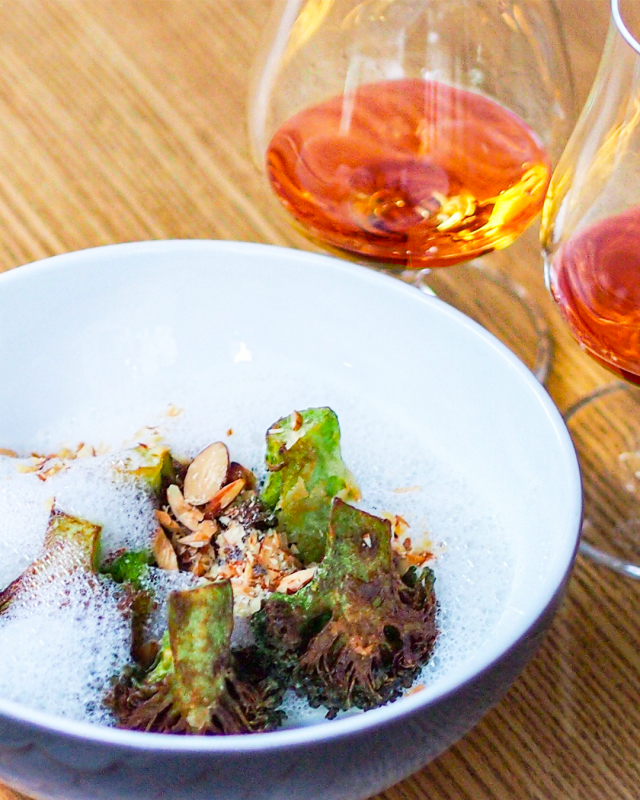 Kohei Masumoto's Crispy broccoli with fermented broccoli sauce
About chef Kohei Masumoto
Chef Kohei Masumoto began his journey into the culinary world after graduating high school and becoming captivated by the rich local ingredients of the four seasons, from both the sea and mountain, in his hometown located close to Miyajima in Hiroshima.
After opening the restaurant HATSU in November 2018, he managed to receive one star in the 2020 Michelin guide in September 2019. A feat that continued the following year for the 2021 guide and for the 2022 it became a Michelin Green Star in addition to the one star.
Crispy broccoli with fermented broccoli sauce
Kohei Masumoto created his sustainable "Crispy Broccoli with fermented broccoli sauce" recipe especially to pair with Rémy Martin Tercet Cognac.
Composed of a seasonal ingredient, this dish minimizes food waste by using the entire broccoli, from the florets to the stem.
Check out the full recipe here, and share your version with us 👉Tag @remymartin and @michelinguide and use #TeamUpForExcellence and #MICHELINGUIDEATHOME