MICHELIN Guide Collaboration
Chef Michael Tusk
Today's recipe is Brioche Pain Perdu, transforming day-old bread into pure decadence. The caramel sauce of this modern version of French toast pairs harmoniously with the depth of flavors in Rémy Martin XO. A recipe from Michelin Starred Chef Michael Tusk.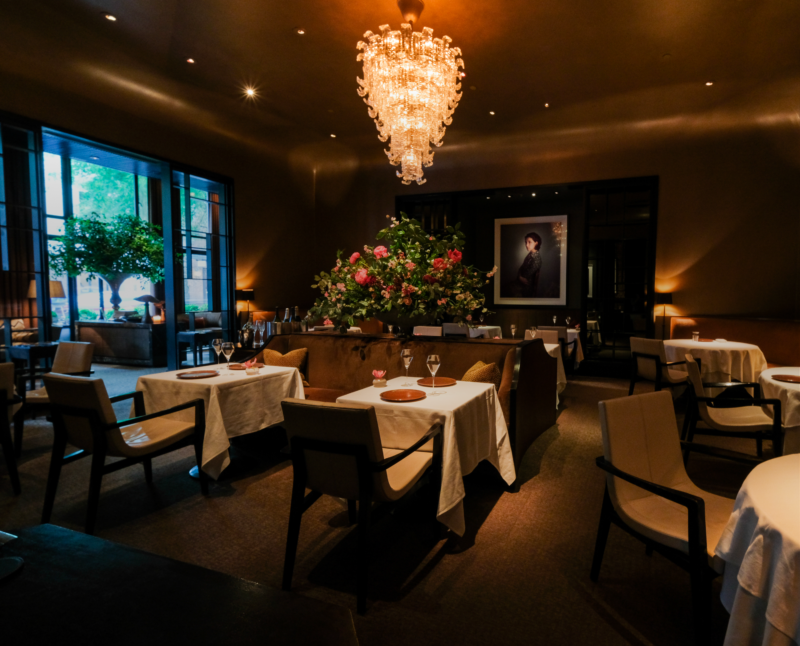 PAIN PERDU PAIRED WITH RÉMY MARTIN XO BY CHEF MICHAEL TUSK
About Chef  Michael Tusk
Michael Tusk and his wife, Lindsay, are the owners of three of San Francisco's most critically-acclaimed restaurants: Quince, Cotogna and Verjus. Chef Tusk's approach to Italian and French regional cuisine is refined and moden, taking inspiration from the season bounty of Northern California and his relationships with local purveyors. A native of New Jersey, Michael Tusk graduated from Tulane University with a degree in Art History before studying at the Culinary Institute of America in Hyde Park. After graduating, Michael Tusk decamped to Europe where he worked in Michelin-starred kitchens in France and Northern Italy. Michael Tusk returned to the United States in 1988 and settled in the San Francisco Bay Area where he worked at some of the country's most pioneering and influential restaurants including Stars, Chez Panisse and Oliveto. In 2003, the Tusks opened Quince and the restaurant quickly became one of San Francisco's top fine-dining destinations. In 2003, they relocated Quince to a historic 1907 brick and timber building in Jackson Square. In its new home, Quince has been awarded four stars by the San Francisco Chronicle, three stars from the Michelin Guide and is a distinguished member of Relais & Châteaux.
Your impression of Rémy Martin XO? ​
Rémy Martin XO is full of depth and flavor. This cognac is easily drinkable yet long lasting on the palate.
Why did you use this product, and not another one from our range?
Rémy Martin XO's classic profile and stature of the blend works best to pair with an equally classic dessert – Pain Perdu.
How does your recipe and its ingredients match with Rémy Martin Tercet? What flavours are revealed?​
There is an undeniable synergy when you're enjoying our Pain Perdu recipe alongside a glass of Rémy Martin XO. The cognac pairs with the vanilla custard and rich caramel qualities in perfect balance. Simultaneously cutting through the sweetness with dry cacao tones and French oak tannins, together it makes for a harmoniously delightful experience.
«There is an undeniable synergy when you're enjoying our Pain Perdu recipe alongside a glass of Rémy Martin XO.»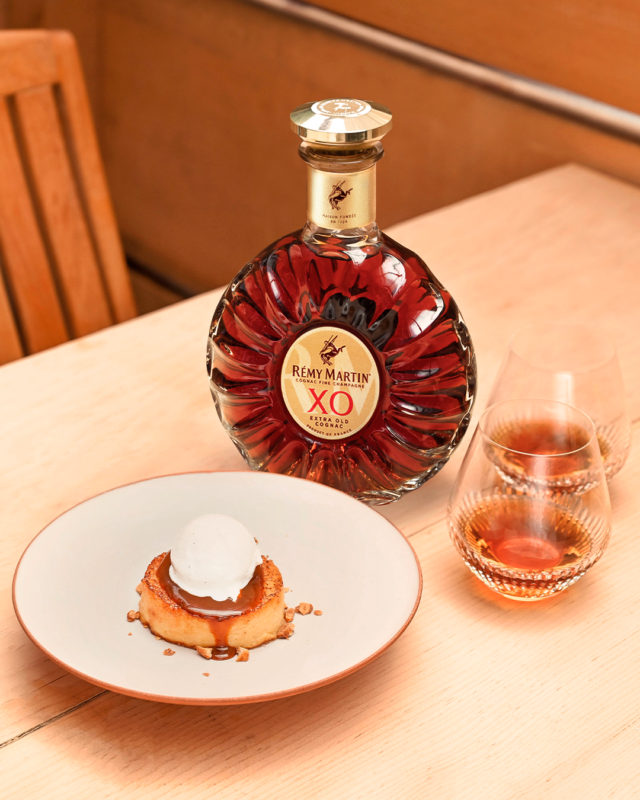 PAIN PERDU PAIRED WITH RÉMY MARTIN XO BY CHEF MICHAEL TUSK
INGREDIENTS
YIELD: 2 SERVINGS
1/2 loaf brioche (5 slices)
For the brioche:
550g heavy cream
60g yolks
60g eggs
140g sugar
1 vanilla bean, scraped
½ loaf of brioche
For the caramel sauce:
225g sugar
30g water
250g cream, warmed
2g salt
STEP 1:
For the brioche:
Combine all of the ingredients with a whisk or immersion blend. Strain mixture and place in a large, high sided baking dish.
STEP 2:
Cut each loaf into 5 slices – 25mm (1") thick. Trim off the edges of each piece so that no crust remains. Lightly toast each slice in a 148 °C (300F°) oven.
STEP 3:
Place the toasted brioche into the custard and allow to soak for 2 hours at room temperature.
Remove each brioche and place on a baking sheet lined with parchment. Cover with plastic wrap and reserve in the refrigerator.
STEP 4:
When you are ready to serve, preheat your oven to 176°C (350F°).
In an oven safe pan, melt 1 tablespoon of butter and 2 teaspoon sugar over medium heat.
When the sugar turns a light amber color, place 1 – 2 slices of brioche in the pan and cook gently until the brioche begins to caramelize.
Flip the brioche using a large spatula and cook the other side. Once golden, place plan in the oven and cook until the brioche and custard are set (about 5 minutes). You will see the brioche slightly expand in size.
STEP 5:
For the caramel sauce:
Place the water and sugar in a high sided pot. Cook over high heat until medium-dark caramel color is reached. Slowly stir in the warm cream, followed by the salt.
Reserve warm for plating.
You may choose to cut your caramelized brioche to your desired shape (squares, rounds or triangles). Place a piece of the caramelized brioche on the plate, spoon over caramel sauce and your favorite vanilla ice cream or whipped cream.
Serve with Rémy Martin XO.
Share your version with us 👉 Tag @remymartin and @michelinguide and use #TeamUpForExcellence and #MICHELINGUIDEATHOME