Flavor by the Grill
West edition
Charred Elote Salad with Grilled Tuna Recipe – Rémy Martin
THE WEST
Charred Elote with Grilled Tuna, Cioppino Sauce and Rémy Ginger
In this episode, Chef Kwame takes us on a road trip along the West coast. Influenced by an actual trip he took with his best friend, this recipe combines Mexican heritage with the coast's native seafood.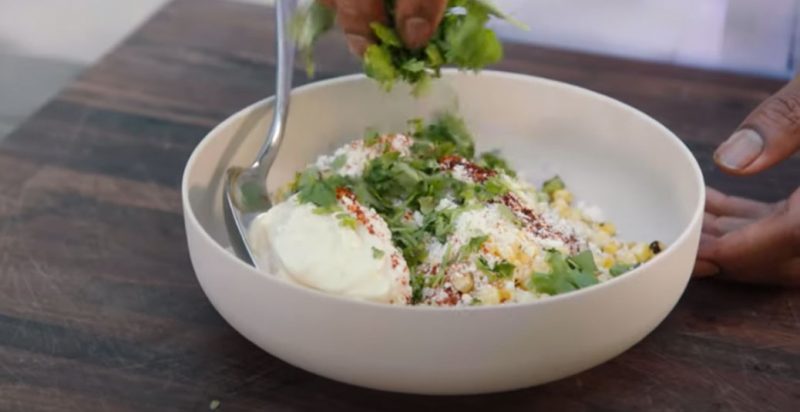 INGREDIENTS
Charred Elote Salad with Grilled Tuna Recipe
FOR THE CORN SALAD:
Sweet corn 5 each
Mayo ½ cup
Cotija cheese 1 tablespoon
Tajin ½ tablespoon
Chili powder 1 teaspoon
Cilantro, chopped ½ bunch
Melted Butter 2 tablespoons
Lime, juiced as needed
Salt as needed
FOR THE TUNA:
2-inch-thick tuna steaks 4 each
Chili powder
Garlic Powder
Salt
FOR THE SAUCE:
Garlic, chopped 2 tablespoons
Garlic, sliced 10 cloves
Fennel bulb, thinly sliced 1 whole
Tomato paste 2 tablespoons
Red Chili flake ½ teaspoon
Crushed tomatoes 2 cups
Thyme, sprig 2 each
Dry white wine 1 cup
Clam juice ½ cup
Fish stock ½ cup
GARNISH:
Cilantro sprigs
Fennel fronds
Cotija cheese crumbles
For the corn salad, char the corn on the grill on all sides. Remove from the grill and cut off kernels. Mix all ingredients for the salad and season with salt.
For the sauce, sauté the garlic, and fennel for 5 minutes in a neutral oil on medium heat. Add tomato paste and cook for 4 minutes, stirring constantly, until it caramelizes. Deglaze with white wine and let it reduce by half. Add all other ingredients and reduce by half. Season with salt.
For the tuna steak, rub with chili powder, garlic powder and salt. Cook on a hot grill for 2 minutes each side. Remove and slice on a bias.
Place corn in a bowl, top with fanned out tuna, drizzle sauce and garnish with fennel fronds, cotija cheese, and cilantro.
The Collection
Discover all our Cognacs