Flavor by the Grill
Northeast edition
Grilled Lobster Salad and Steamed Clams Recipe – Rémy Martin
THE NORTHEAST
LOBSTER WITH SAUTEED CLAMS AND ROYAL TOM COLLINS
In this episode, Chef Kwame's stories and flavors take us to Cranberry Island, Maine. Here he shows us how to pair grilled seafood flavors with a refreshing Rémy Martin cocktail.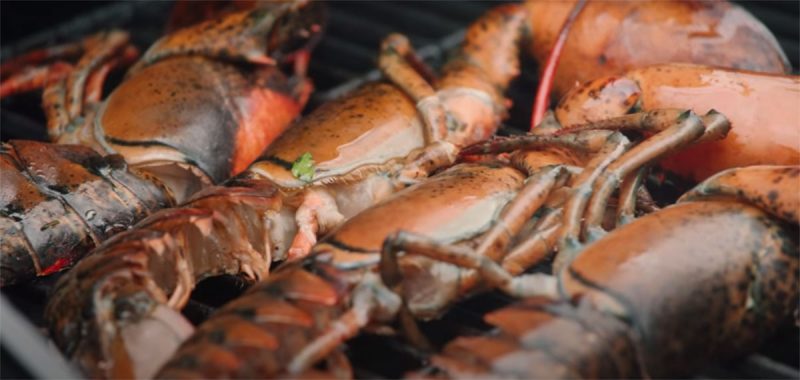 INGREDIENTS
Grilled Lobster Salad and Steamed Clams
Maine Lobster, halved 4 each
Mayo ½ cup
Garlic, minced 1 teaspoon
Red onion, chopped ½ tablespoon
Dill 2 tablespoons
Sambal 2 teaspoons
Honey 1 tablespoon
Green apple, julienned 1 whole apple
Whole grain mustard 1 tablespoon
Toasted curry powder ½ tablespoon
Salt as needed
Lemon juice as needed
Clams 2 pounds
Garlic, sliced 10 cloves
White wine ½ cup
Meyer lemon juice ½ cup
Red Chili flake ½ teaspoon
Cane sugar ½ tablespoon
Salt as needed
GARNISH:
Thinly sliced Meyer lemons 1 each
Parsley, chopped ½ bunch
Dill fronds ½ bunch
Brioche slices, 2 inches thick, grilled 10 each
Grill the lobster, meat side down first, for 5 minutes each side. Remove and let cool. Take out meat and dice. Add all ingredients for the lobster salad and gently mix. Season with salt and lemon juice. Garnish with dill fronds.
For the clams, sauté garlic on medium heat until fragrant. Add chili flake, cane sugar, and cook until the sugar lightly caramelizes. Add clams, white wine and cook covered for 8 minutes, or until the shells open. Season with Meyer lemon juice and salt. Garnish with chopped parsley and thinly sliced Meyer lemons.
The Collection
Discover all our Cognacs