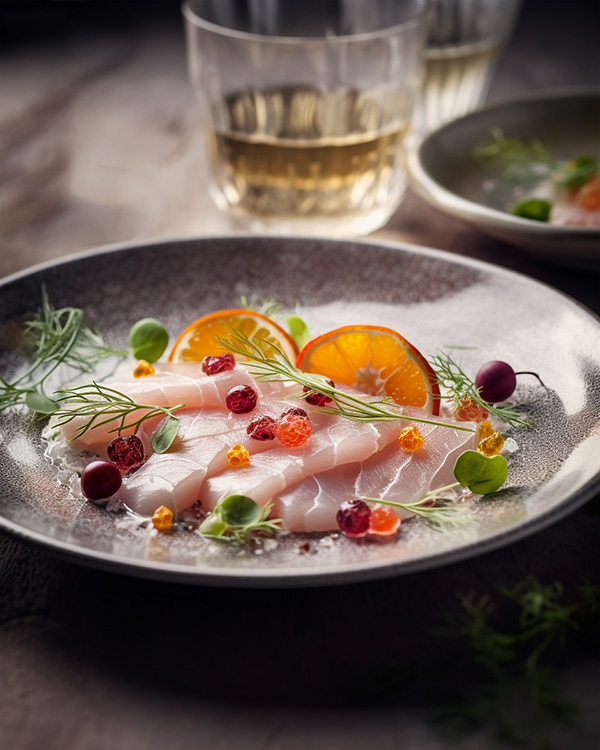 PERUVIAN STYLE WILD SEA BASS CEVICHE
INGREDIENTS (SERVES 4)
For the leche de tigre
50 grams wild sea bass (trimmings)
70 ml fish stock
15 grams celery stalk
10 gr chopped ginger
20 grams sliced red onion
100 ml freshly squeezed lime juice
1 clove chopped garlic
2 sprigs coriander
¼ piece of green Thai chilli
For the ceviche
1 skinned and pin-boned fillet of wild sea bass (weighing 600 grams)
1 medium size sweet potato
30 grams caster sugar
1 star anis
¼ cinnamon stick
1 small red onion
4 sprigs coriander
¼ green finger chilli
3 limes
INSTRUCTIONS
For the leche de tigre
Step 1  Tip the lime juice, fish stock, celery, ginger, garlic, onion and ½ teaspoon of sea salt into blender and blitz until smooth.
Step 2  Add coriander sprigs and green chilli and blend until finely chopped.
Step 3  Pass through a fine mesh chinois, poor over the sea bass trimmings and refrigerate until chilled (20-30 minutes). Strain though chinois once more.
For the ceviche
Step 1  Cut the sea bass into 2 cm square thick pieces. Place in a chilled bowl add a pinch of salt, the leche de tigre, squeeze in extra lime juice to taste and toss to combine. Marinate for 10 minutes over a bowl with ice.
Step 2  Peel and cut the sweet potato in medium size dice. Place in a saucepan with sugar, star anise, cinnamon, water and a pinch of salt. Bring to a simmer over medium heat and cook until tender (5-10 minutes). Drain and set aside.
Step 3  Meanwhile cut the red onion in thin slices and soak in iced water for 5 minutes. Drain and set aside. Remove the seeds of the green finger chilli and chop finely. Pick coriander and chop roughly.
Step 4   Add the sliced onion, the coriander and the green chilli to the ceviche. Toss to combine, adjust seasoning to taste, then serve in individual bowl with all the juices and a few dice of sweet potato on each. Finish with a drizzle of extra virgin olive oil and a lime wedge.
Best enjoyed with Club Exception frozen!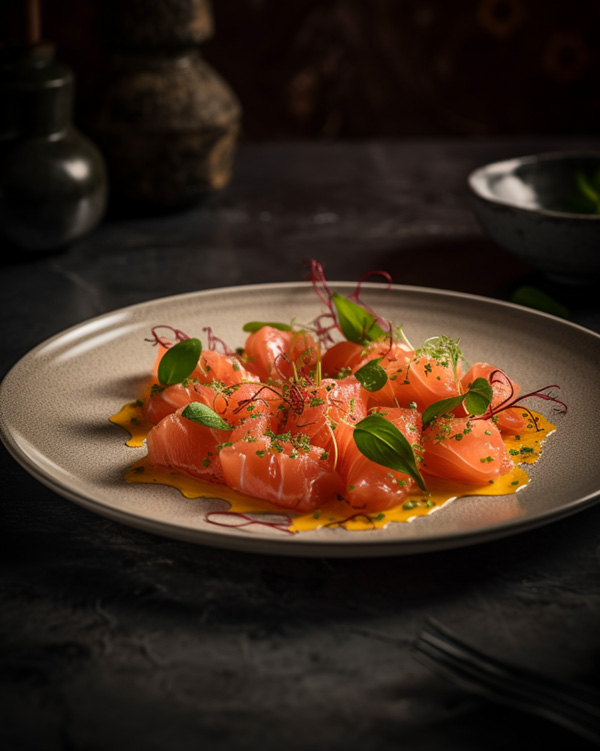 ORGANIC SCOTTISH SALMON GRAVLAX
INGREDIENTS (SERVES 4)
For the leche de tigre
50 grams wild sea bass (trimmings)
70 ml fish stock
15 grams celery stalk
10 gr chopped ginger
20 grams sliced red onion
100 ml freshly squeezed lime juice
1 clove chopped garlic
2 sprigs coriander
¼ piece of green Thai chilli
For the ceviche
1 skinned and pin-boned fillet of wild sea bass (weighing 600 grams)
1 medium size sweet potato
30 grams caster sugar
1 star anis
¼ cinnamon stick
1 small red onion
4 sprigs coriander
¼ green finger chilli
3 limes
INSTRUCTIONS
Step 1    Pat the salmon dry with kitchen paper and run your hand over the flesh to see if there are any stray small bones left – if there are, use a pair of tweezers to pull them out. Set the salmon fillets aside.
Step 2    Tip the salt, sugar, peppercorns, lemon zest, juniper, coriander and dill into a food processor and blitz until you have a bright green, wet salt mixture or 'cure'. Unravel some cling film but keep it attached to the roll. Lay the first fillet of salmon skin-side down and then pack the cure over the flesh. Drizzle with gin and top with the 2nd fillet, flesh- side down. Roll the sandwiched fillets tightly in cling film to create a package.
Step 3    Place the fish in shallow-sided tray and lay another tray on top. Weigh the tray down with a couple of bottles and places in the fridge for at least 48 hours or up to 4 days, turning the fish over every 12 hours or so. The longer you leave it, the more cured it will become.
Step 4    To serve, unwrap the fish and brush off the with kitchen paper. Rinse if you like it. You can slice the fish into long thin slices, leaving the skin behind, or remove the skin  and slice straight down. Serve the sliced fish on individual plates, with freshy cracked peppercorn, picked dill and lemon wedges.
Best enjoyed with Club Exception frozen!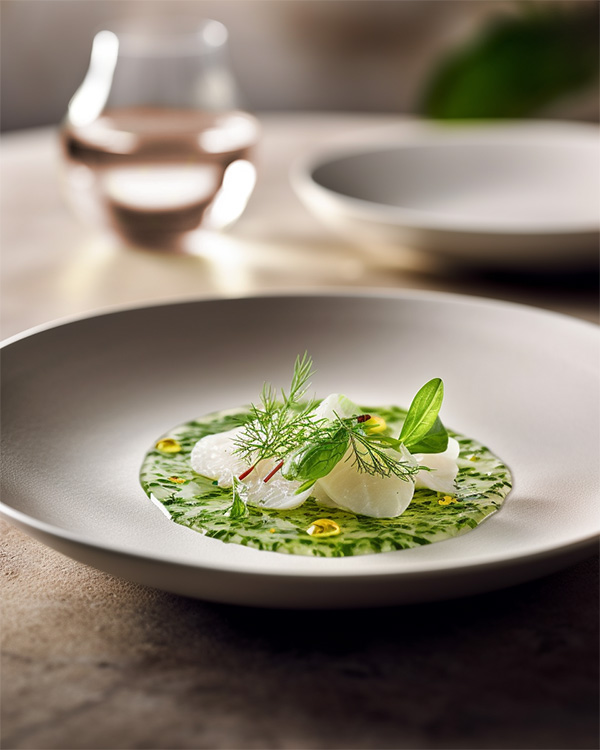 WILD SEA BASS CARPACCIO, PRESERVED LEMON, CAPERS AND GREEK BASIL
INGREDIENTS (SERVES 4)
1 pin-boned fillet of wild sea bass (weighing 600 grams)
Premium extra virgin olive oil as needed
Espelette chilli as needed
1 Moroccan style preserved lemon
Greek basil as needed
2 organic Italian leafy lemons
1 small jar of capers in brine
Flaky sea salt such as Fleur de sel or Maldon sea salt
INSTRUCTIONS
Step 1  Skin the sea bass fillet and slice finely, with the knife at an angle to achieve wider slices. This is easiest to do when the fish is fridge cold. Arrange the slices onto plates in a single layer
Step 2  Heat about one tablespoon of olive oil in a small pan over medium high heat. Drain the liquid of the capers, dry pad on a kitchen paper and add them to the hot oil. Cook until crispy occasionally stirring the capers. Remove the capers from the pan onto a paper towel to dry off the excess of oil.
Step 3  Cut the preserved lemon in quarters, remove the flesh and white parts to keep the zest. Using a sharp knife cut the preserved lemon zest into a very small dice.
Step 4  Dress each plate with extra virgin olive oil, a squeeze of lemon juice, diced preserved   lemon, fried capers, sea salt and espelette chilli. Finish with Greek basil leaves and Italian lemon wedges.
Best enjoyed with Club Exception frozen!
The Collection
Discover all our Cognacs