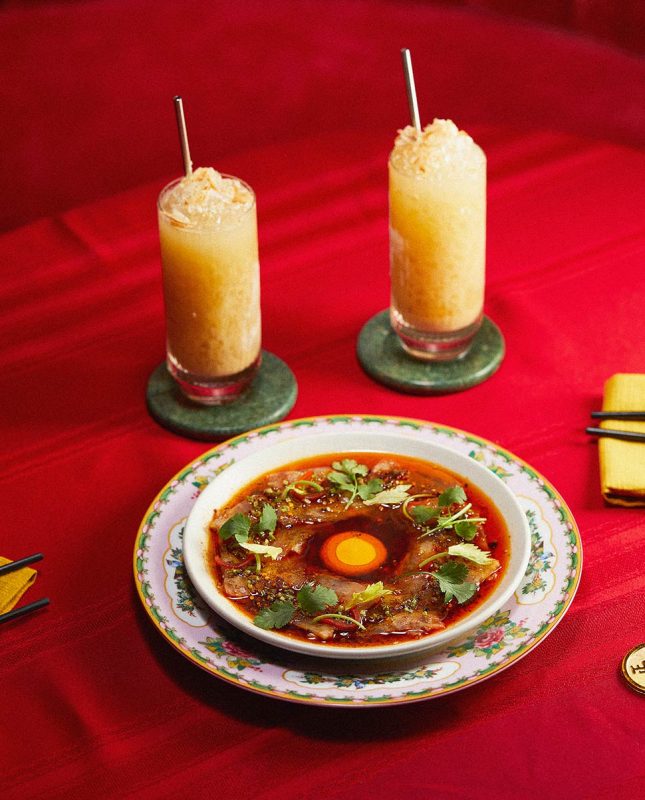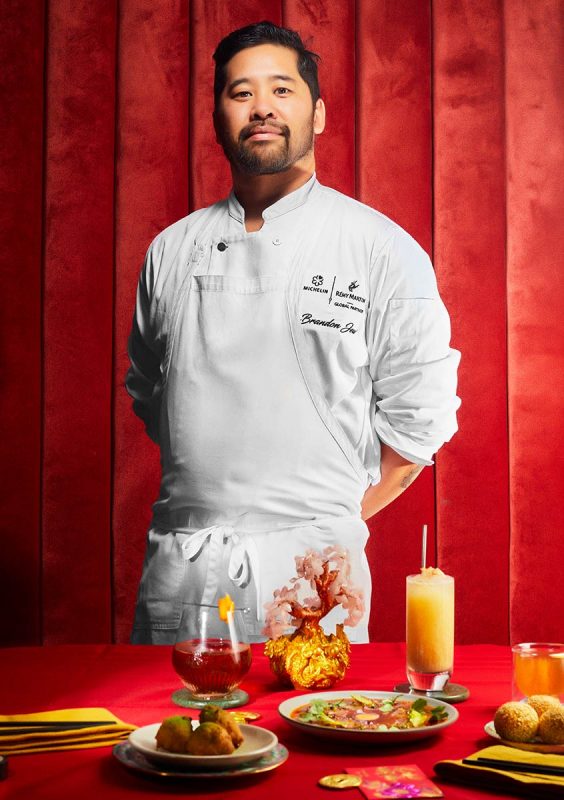 Food Pairing
by Michelin-starred chef Brandon Jew
For those celebrating Lunar New Year at home, Michelin-starred Chef Brandon Jew also created custom culinary and cocktail pairings.
Brandon leveraged his heritage to create festive cocktail creations of his own, as well as traditional recipes that pair perfectly with The Imperial Old Fashioned.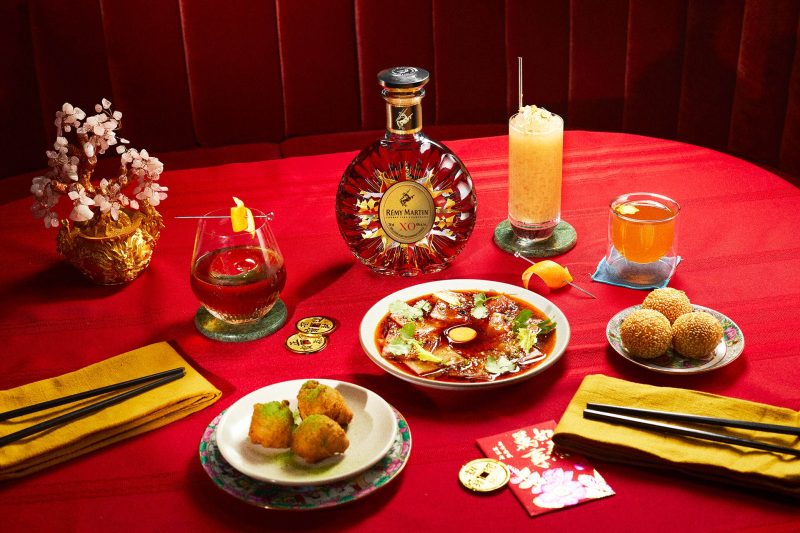 Appetizer & Cocktail Pairing
Smoked Oyster Youtiao paired with Rémy Martin XO "Gentle"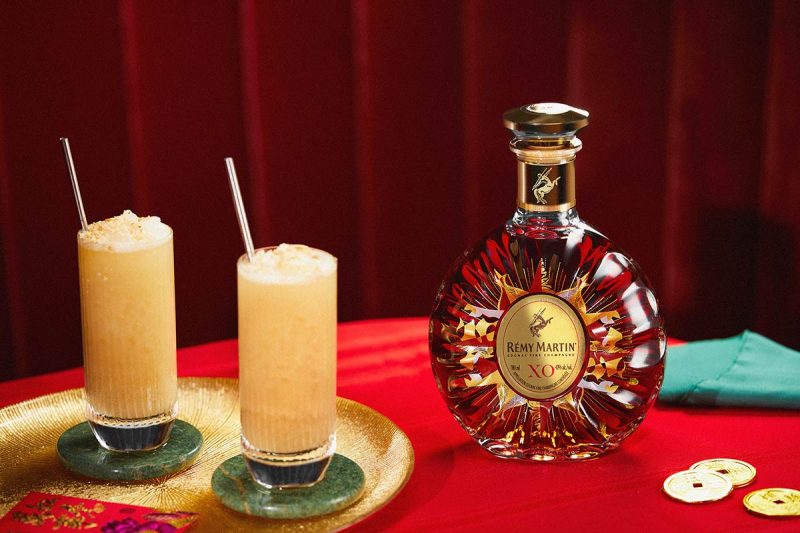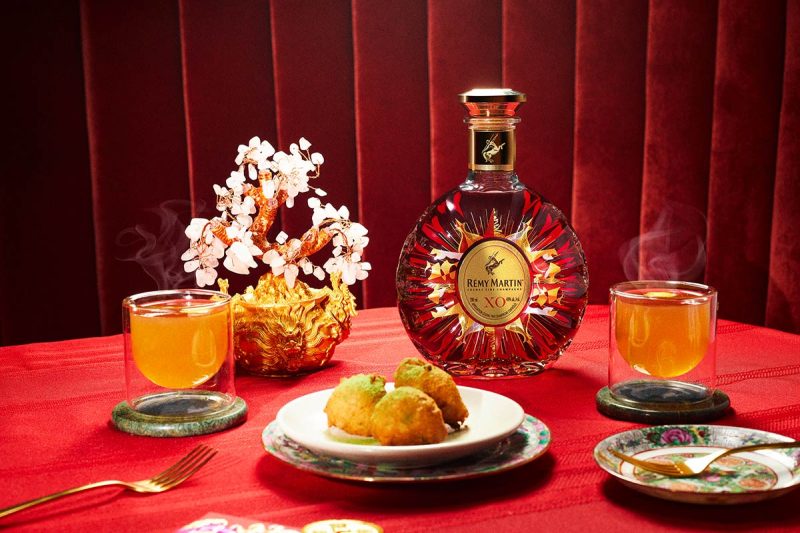 Ingredients
Smoked Oyster Youtiao & Rémy Martin XO "Gentle"
INGREDIENTS APPETIZER
1 1/2 cups cake flour (220 grams)
2 teaspoons granulated cane sugar (8 grams)
1 1/2 teaspoons sea salt (4 grams)
1 1/2 teaspoons instant yeast (5 grams)
1 cup whole milk (240 grams), warmed to 110°F
2/3 cup small dice drained Smoked Oysters (150 grams)
1/4 cup thinly sliced green onions (16 grams)
1 1/2 teaspoons oyster sauce (10 grams)
6 cups canola oil (1,290 grams), for deep frying
INGREDIENTS RÉMY MARTIN XO "GENTLE"
1oz Rémy Martin XO
1/2oz Amaro (Cardamaro)
1oz Coconut Rice Syrup
9 dashes Fig Leaf Tincture
1/2oz Lime Juice
1/2oz Simple syrup

For the Coconut Rice Milk:
1 Can Coconut Cream (Coco Lopez)
1 1/2 Cups Jasmine rice
2 1/2 cups hot filtered water
Tools:
Large Mixing Bowl
Blender
Fine Strainer

For the Fig leaf tincture:

750ml Overproof grain alcohol (Everclear)
25 g fig leaf
Tools:
Large mason jar with lid (32oz)
Large Baking Sheet Trap
Fine mesh strainer
SMOKED OYSTER YOUTIAO
1. Place the flour, sugar, salt, and yeast in a large bowl and whisk to combine. Pour in the milk and stir until just forming a smooth, wet batter. Stir in the smoked oysters, green onions, and oyster sauce. Cover with a damp kitchen towel and set aside in a warm place for 15 minutes. It should have grown to about a third larger and be speckled with bubbles. This batter can be finicky, and it is better to underproof. Over proofed batter is watery and deflated and will fry up like hockey pucks. Meanwhile, heat the oil.
2. To get the right crispy and fluffy ratio, double fry. For the first round, fill a wok or Dutch oven with the oil and secure a deep-fry thermometer on the side of the pot. Heat the oil to 325°F over medium-high heat, being careful to maintain this temperature as you fry. Frying in batches of 6 max, gently drop the batter in 2-tablespoon portions (or use a 1-ounce scoop) into the hot oil. They should sink first and then float up. Gently stir them after a minute in case they're stuck on the bottom, otherwise leave them alone until they have turned barely golden, about 3 minutes total. Transfer to a wire rack fitted over a baking sheet. At this point, the youtiao can wait at room temperature up to 1 hour. You can also freeze them solid in a zip top bag up to 2 months, and thaw before the final fry.
3. For the last fry, heat the oil over medium-high heat to 350°F. Set up holding station with a wire rack fitted over a baking sheet in the oven set to 200°F. Fry in batches of no more than 6 again until dark golden brown, 2 to 2 1/2 minutes. Transfer to the rack in the oven as you fry each batch. Serve hot, dusted with green onion powder.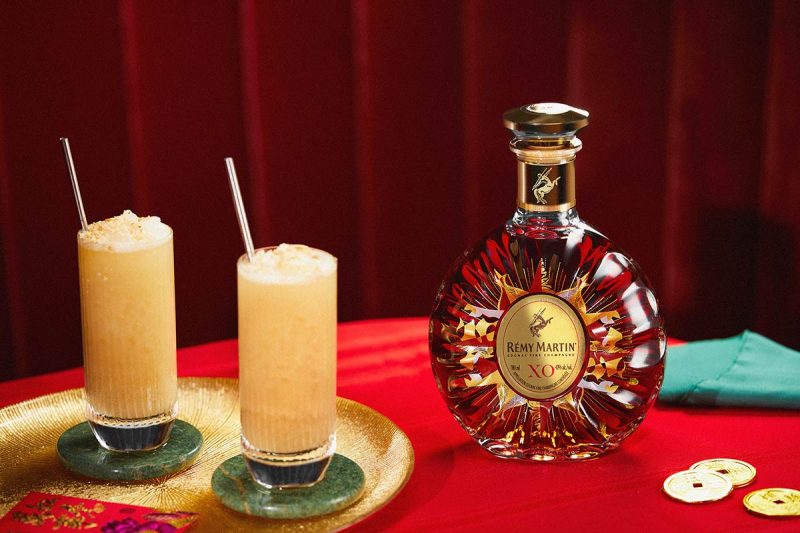 RÉMY MARTIN XO "GENTLE"
Coconut Rice Milk
Combine all ingredients in a mixing bowl. Pour ingredients into blender pitcher and blend on low working your way up to high until all ingredients are incorporated into a creamy syrup. Strain through fine mesh strainer ensuring your syrup doesn't have any pieces of rice left behind.
Fig leaf tincture
Preheat oven to 325. Lay fig leaves flat on sheet tray. Place in oven for 10 min. Toasting until the fig leaves turn slightly brown and are aromatic. Fill mason jar with over proof grain alcohol add your toasted fig leaves and cover tightly with a lid. Let it sit for 5 days to infuse. After 5 days strain through a fine mesh strainer and rebottle into a bitters dasher.
Cocktail Directions
1. Combine All ingredients in a cocktail shaker, fill with ice. Shake.
2. Strain into a Collins glass or a large rocks glass filled with ice.
4. Garnish with Toasted Coconut Shreds.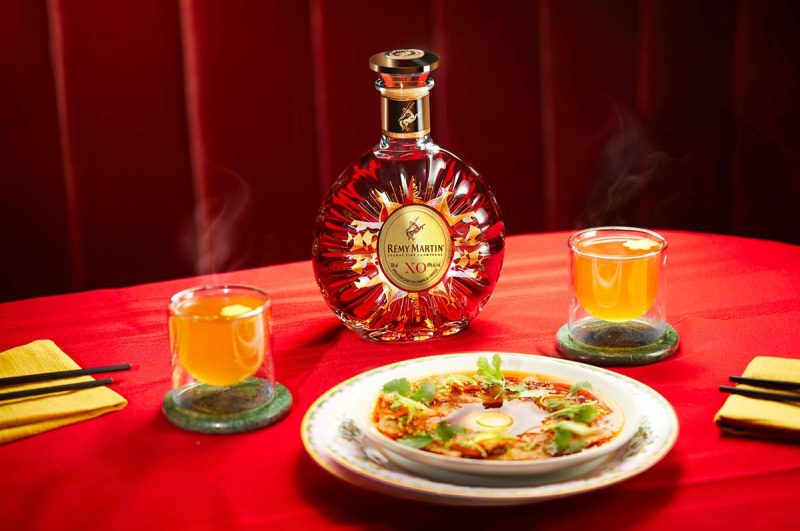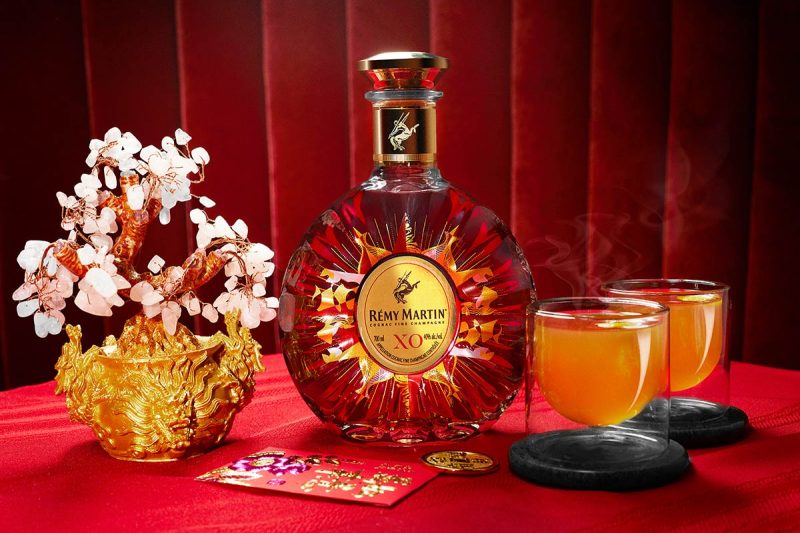 Ingredients
BEEF TENDON WITH LANZHOU CHILI OIL YIELD, Red Pepper Puree AND POTATO CRISPS
BEEF TENDON
3 pounds beef tendon (1,360 grams)
2 1/4 cups water (624 grams), plus more for blanching
1 cup Chinese black vinegar (TK grams)
LANZHOU CHILI OIL YIELD
1/2 cup canola oil (187 grams)
1/8 yellow onion, coarsely chopped (30 grams)
1 medium green onion, coarsely chopped (19 grams)
1 (1/2-inch) piece fresh ginger, peeled and thinly sliced (10 grams)
1 black cardamom pod (1 gram)
1 star anise pod (1 gram)
1/2 small cinnamon stick (about 1 1/2 inches, 1 gram)
1/2 teaspoon Sichuan peppercorns (1 gram)
1/2 teaspoon fennel seeds (1 gram)
1/4 cup Tianjin chili flakes (25 grams)
1 tablespoon white sesame seeds (8 grams)
1 tablespoon black sesame seeds (8 grams)
Dash dark soy sauce
RED PEPPER PUREE
1-pound red bell peppers (about 3 medium, 490 grams)
1/2 cup canola oil (94 grams)
1/2 teaspoon kosher salt (2 grams)
POTATO CRISPS
Russet potato, peeled and rough chopped
5% of the potato weight in garlic clove, peeled Canola oil, enough for deep frying
Kosher salt
RÉMY MARTIN XO "ELEGANT"
1.5 oz Rémy XO
1 oz Apple Syrup
1/2 oz Lemon
4 oz hot Chrysanthemum tea
Apple Syrup
1 cup organic unfiltered apple juice
1 cup sugar
Tools:
Whisk
Measuring cup
Medium sized sauce pan
BEEF TENDON
1. Bring a large pot of water to a boil over high heat. If you have large pieces of beef tendon, cut into pieces about 4×1-inch. Add the tendon to the water and blanch for 15 minutes. Meanwhile, place the 2 1/4 cups water, black vinegar, and soy sauce in an electric pressure cooker.
2. When the tendon is ready, use tongs and transfer it into the pressure cooker. Seal the pressure cooker and set to cook for 1 hour 15 minutes to 1 1/2 hours on high pressure, until the tendon is very tender and gelatinous.
3. Immediately release the pressure. Using tongs, transfer the tendon to a 9×5-inch loaf pan, packing the pieces in as tightly as possible.
4. Pour the remaining liquid through a fine-mesh strainer into a heatproof bowl or measuring cup with a spout. Let sit until the fat rises to the surface. Skim off the fat. Pour enough of the remaining liquid over the tendon to barely cover. Set aside to cool until lukewarm.
5. Press a sheet of plastic wrap directly on the surface of the terrine. Place a second loaf pan on top of the terrine to weigh it down. If you don't have a loaf pan, refrigerate the terrine until just starting to set, then place a large ziplock bag full of water on top instead. Refrigerate until very firm and set, at least 8 hours or overnight.
6. Unmold by turning over the pan and jiggling. If serving immediately, use a very sharp knife to cut the loaf crosswise into very thin (about 1-cm wide) slices. Otherwise, wrap tightly in plastic wrap and refrigerate for up to 5 days. To freeze, wrap the loaf in another layer of aluminum foil and freeze for up to 3 months. Defrost overnight in the refrigerator.
LANZHOU CHILI OIL YIELD
1. Heat the oil in a small saucepan over medium-high heat until 300°F. Add the onion, green onion, and ginger and fry until the oil reaches 300°F again and the onion is starting to brown around the edges, about 4 minutes. Remove from the heat and add the cardamom, star anise, cinnamon, Sichuan peppercorns, and fennel seeds.
2. Pour the oil mixture through a fine-mesh strainer into a jar or heatproof bowl. Transfer the contents of the strainer into a double layer of cheesecloth. Gather up the sides of the cheesecloth and tie closed with kitchen twine to form a sachet.
3. Add the sachet, chili flakes, white sesame seeds, black sesame seeds, and soy sauce to the oil and stir to combine. Let cool to lukewarm, then cover and let sit overnight at room temperature. Discard the sachet and store in the refrigerator for up to 1 month.
RED PEPPER PUREE
1. Arrange a rack in the upper third of the oven, place a sheet of aluminum foil on the rack, and heat the broiler to high. Place the bell peppers on the foil. Broil, turning every few minutes, until they blacken and blister on all sides, about 20 minutes.
2. Transfer the peppers to a heatproof bowl and cover tightly with plastic wrap. Set aside for 10 minutes to steam the peppers.
3. When the peppers are cool enough to handle, remove their skins and slice them open. Remove the seeds and membranes and discard. Place the peppers, oil, and salt in a blender and blend until smooth. Serve immediately or refrigerate in an airtight container for up to 5 days.
POTATO CRISPS
1. Blend potatoes and garlic into a smooth puree. Load into a squeeze bottle or piping bag. Do not use one with too large of a tip.
2. Heat oil to 300°F in a wok (give alternate vessel). Squeeze out the puree into the oil in strands, like funnel cake. Remove with a spider once barely golden and crisp (about one minute) and drain on a paper towel. The potato will break up into crispy bits as you set it on the paper. Salt immediately. Cool to room temperature and store in an airtight container for up to 1 week.
TO SERVE
1. Garnish: Blood Orange (supreme) & micro celery
2. Place a spoonful of pepper puree on the middle of a plate. Lay 6 slices of tendon in a ring around the puree, then sprinkle potato crisps and drizzle chili oil over the ring. Garnish with a few halves of blood orange segments and micro celery.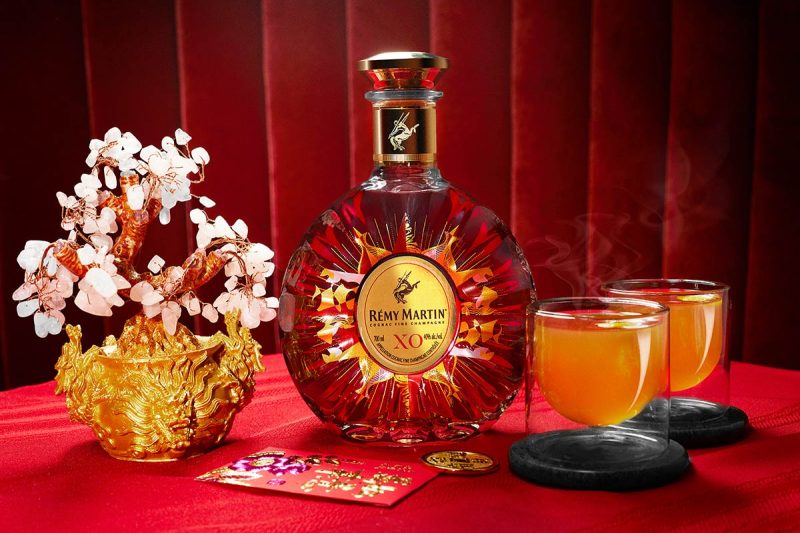 RÉMY MARTIN XO "ELEGANT"
Apple Syrup
Bring apple juice to a boil and remove from heat. Add your sugar whisking until it is completely dissolved. Let cool to room temp. Store in a glass jar and seal with lid. Keep syrup refrigerated up to 7 days.
Cocktail Directions
1. Fill your ceramic cup with hot water to temp the vessel. Discard water and pour Rémy XO, Apple syrup, and lemon into the hot tempered ceramic cup.
2. Then pour in 4oz of hot chrysanthemum tea. Garnish with a lemon peel.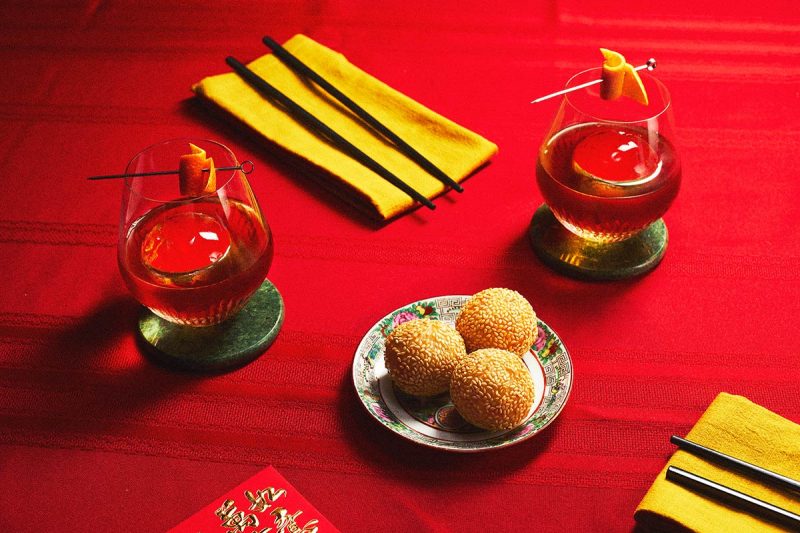 Ingredients
Jian Dui Dough & Rémy Martin XO "Kind"
JIAN DUI DOUGH
Dough
230 g Glutinous Rice Flour
68 g Sugar
145 g Water
2g Salt
Chestnut Filling
1290g chestnut puree
300g red bean paste
450g sugar
15g apple cider vinegar
30g salt
30g vanilla extract
RÉMY MARTIN XO "KIND"
1.5oz Remy Martin XO
5oz Nocino
0.25oz. preserved winter melon syrup
3 dashes angostura bitters
JIAN DUI
1. To make the dough, place rice flour and sugar in a stand mixer bowl with paddle attachment.
2. Bring a pot of approximately 500g of water to a boil.
3. Stream in 145g of the hot water into the flour while mixing on low.
4. When the dough comes together, form a 40g ball of dough and boil it in the water until it floats (about 5 minutes).
5. Place the cooked dough in the mixer bowl and paddle until a homogenous dough forms, using a bowl scraper to scrape the bottom and sides of the bowl. Dough will be sticky.
6. Turn out the dough onto plastic wrap lined with rice flour and let rest for 30 minutes.
7. Portion into 35g balls.
8. Fill with frozen filling of choice, weighed to 9g. Dip filled dumpling in water, roll in sesame seeds, using palms to roll into a ball and press in seeds, and freeze.
9. Fry at 350 degrees for 11 minutes, until golden brown and they float.
RÉMY MARTIN XO "KIND"
1. Start by building your cocktail in a mixing glass first by add Remy Martin XO.
2. Add Nocino, add winter melon syrup.
3. Next add enough ice to fill the mixing glass and stir consistently with a long bar spoon for 6 revolutions.
4. Add 3 dashes of angostura bitters. Stir again for 3 revolutions.
5. Strain the cocktail using a julep strainer into a rocks glass.
6. Serve with one large ice cube. Garnish with an orange twist.

RÉMY MARTIN PRESENTS:
THE LUNAR NEW YEAR FAMILY SPIRIT CELEBRATION
Join our Lunar New Year celebration and discover how our Rémy Martin family teams up to enjoy the holiday.
view the experience