MICHELIN Guide Collaboration with
Ricky Saward /
Seven swans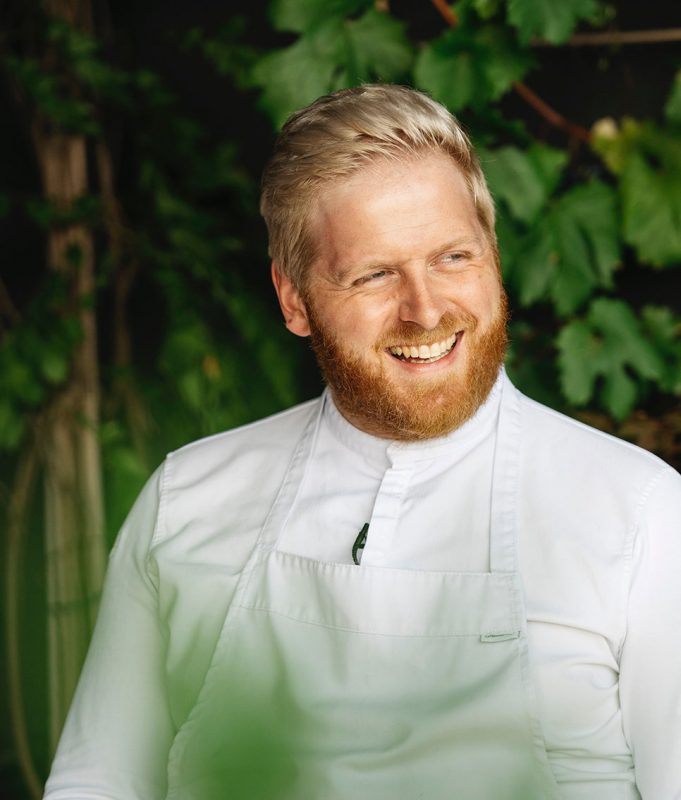 Ricky Saward's Rehydrated Red Cabbage
A very profound earthy dish with rich umami notes. With a nice balance of a fruity sweetness and acidity. Notes of caramel, dried fruit and liquorice. A dish that demonstrates how much flavor you can get out of simple vegetables without the use of spices or animal products. How to get an intense result with the right technique. A seasonal, regional, sustainable dish.
Ricky Saward, chef and co-owner of the vegan restaurant Seven Swans, shares with us the inspiration for his recipe for "Rehydrated Red Cabbage":
"Rémy Martin XO is an incredibly multifaceted cognac that evokes so many flavors from the nose to the finish that you can't decide what to cook with it."
"We should concern ourselves more with our region, which has so much incredible to offer in terms of taste. All of this would make us all a little more sustainable."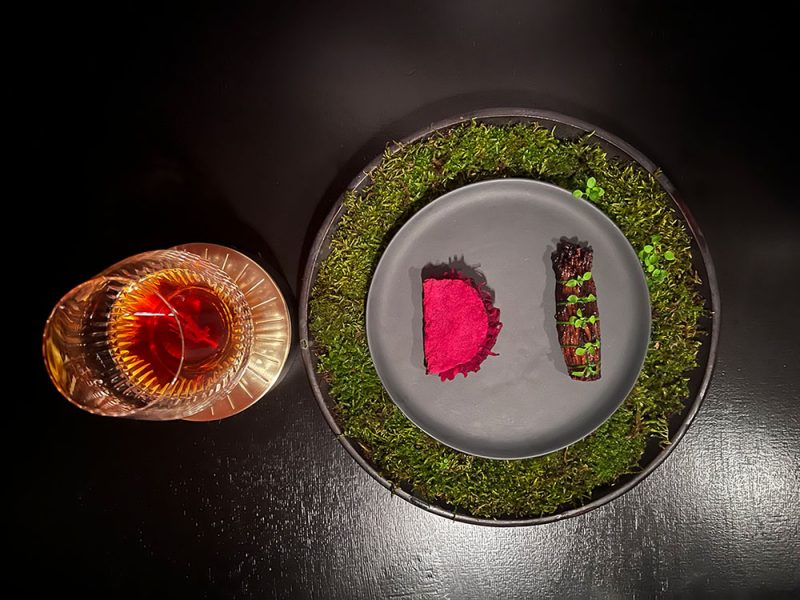 REHYDRATED RED CABBAGE
INGREDIENTS
FOR THE REHYDRATED RED CABBAGE
1 Pcs. (2kg) Red Cabbage
300g Beet Root
100g Beet Sugar
100ml Red Wine
100ml Red Wine Vinegar
Verjus
Salt
FOR THE RED CABBAGE KRAUT
100g Red Cabbage
50ml Verjus oder Red Wine Vinegar
20ml Beet Reduction
Salt
FOR THE BEETROOT TACCO
5 Pcs. Red Cabbage Leaves
Salt
Rapseed Oil
FOR THE DEMI GLACE SWEET AND SOUR
500ml Demi Glace (vegan)
50g Raisins
50ml Beetroot Reduction
100ml Sauerkraut Juice
Margarine
Salt
FOR THE ENOKI MUSHROOM
500g Enoki Mushroom
100ml Demi Glace (vegan)
50g Margarine
Chives
Rapseed Oil
Salt
STEP 1
For the Rehydrated Red Cabbage
Cook the red cabbage whole at 200 degrees for about 3 hours until it is soft in the middle (depending on the size). Al-low to cool and remove the outer charred leaves. Then cut the cabbage into wedges (thickness according to taste). Then place the wedges on a grid and dehydrate/dry at 70 degrees for 1 hour to give a waxy/gummy consistency. Place in the beetroot reduction and marinate for 24 hours.
STEP 2
For the Beetroot Reduction
Caramelize beet sugar and add red wine and red wine vinegar. Let cook for about 10 minutes. Add the peeled beetroot (save the skin) and let cook. Let cook until the beets are soft. Season and mix.
For the Red Cabbage Kraut
Cut the red cabbage into fine julienne. Knead well with salt until you get a lot of juice. Season to taste with verjuice or red wine vinegar.
STEP 3
For the Demi Glace Sweet and Sour
Boil all the ingredients in the pot to the desired strength. Strain according to taste and assemble with margarine. Sea-son with salt.
For the Enoki Mushroom
Portion the Enoki mushrooms and fry in margarine and rapseed oil until golden. Deglaze with jus and caramelize. De-pending on your taste, brush with jus again and flambé with a blowtorch. Tie the mushrooms into packets with chives and season.
STEP 4
Tie the mushrooms into packets with chives and season.

For the Beetroot Tacco
Cut out the red cabbage leaves so that they are the same size as the red cabbage wedges. Spread the cut out leaves on a baking sheet, drizzle with oil and season with salt. Weight down with another sheet. Bake for 10 minutes at 180°C.
STEP 5
First, coat the marinated red cabbage wedges with a little beet reduction. Then add the red cabbage Kraut on top. Wrap the wedges with the braised cut out leaf like a taco. Then regenerate the red cabbage wedges for 6 minutes at 180°C. The tied mushrooms also regenerate for 4 minutes at 180°C. Arrange the red cabbage and mushrooms and pour by side or over the jus.
Serve with a glass of Rémy Martin XO.
Share your version with us 👉Tag @remymartin and @michelinguide and use #TeamUpForExcellence and #MICHELINGUIDEATHOME