Our collaborations
Sabor de Sobremesa
Recipes
To honor the Latino culture of food and drink and its importance to the sobremesa ritual, Rémy Martin has partnered up with Chef and TV personality Alejandra Ramos and Mixologist Alex Valencia. Both experts have shared two of their favorite recipes that they enjoy at their own gatherings, which lead to the post-dining tradition of sobremesa for you to bring to the table.

Dessert Pairing | Rémy Coquito
Dessert Pairing
Polvorones by Alejandra Ramos
(PUERTO RICAN ALMOND SHORTBREAD COOKIES)
End the night around the table with a plate of polvorones.
view ingredients | directions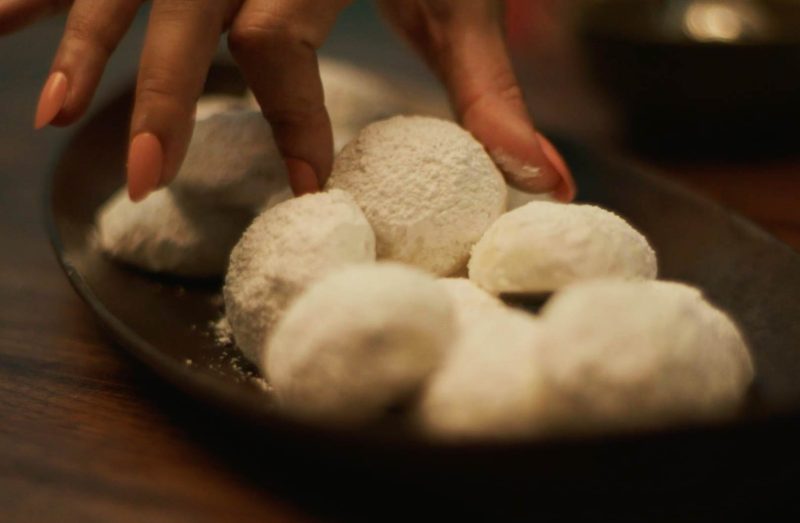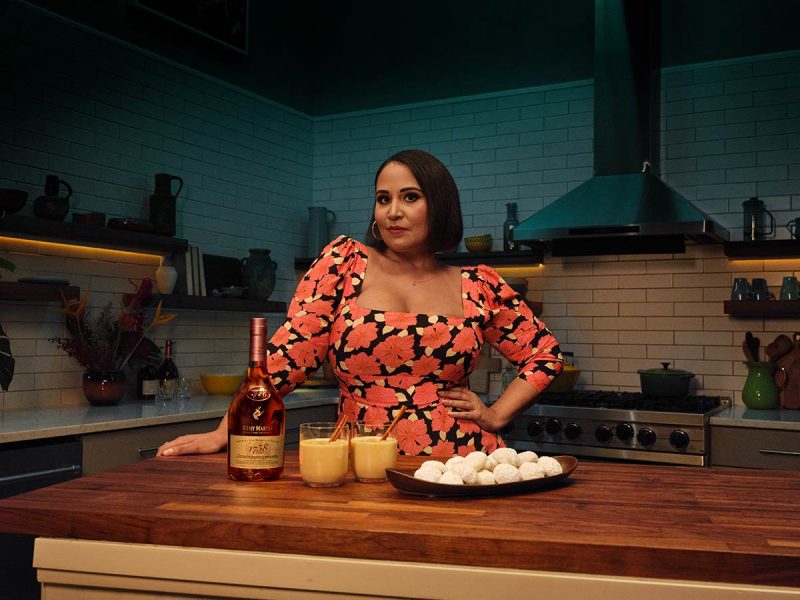 The name of these nutty shortbread cookies comes from the word "pulvo" which means "dust" in Spanish, and which references the powdery sugar that covers the cookie, as well as the trademark crumbly texture of the cookie itself. You may know these as "Mexican Wedding Cookies" or even "Russian Tea Cakes." It seems just about every country has their own version, and with good reason, for they are as easy to make as they are delicious to enjoy.
Makes about 2 dozen

Ingredients
1 cup unsalted butter, room temperature
1/2 cup granulated white sugar
1 teaspoon vanilla extract
1 teaspoon almond extract
1/2 teaspoon kosher salt
2 cups flour
1 cup coarsely ground almonds
1/2 cup powdered sugar, for dusting cookies
Preheat oven to 325 degrees F. Line a baking sheet with parchment paper.
In the base of a mixer, beat together the butter and sugar until light and fluffy – about 3 minutes. Add the extracts and salt, and beat for another 30 seconds. Lower the mixer to the lowest setting, and slowly add the flour letting it mix until it is all completely worked in. Add the almonds and let mix until completely incorporated.
Use a cookie scoop or your hands to form round balls out of the dough, each about 1 tablespoon in size. Arrange on the cookie sheet 1 inch apart. Once you have filled the cookie sheet, place it in the refrigerator to chill for 15 to 30 minutes.
Once chilled, place in the oven and bake for about 20 minutes, or until the cookies are completely baked, golden brown on the bottom, but still pale on top. Let them cool on the pan for 5 minutes, then transfer to a rack to completely cool.
Toss the cooled cookies in the powdered sugar and serve or store with extra powdered sugar in an air-tight container. Will keep well for about 5 days. Dough can also be frozen and baked later.
Substitutes:
Replace almonds with an equal amount of pecans, walnuts, pistachios, or a combination of nuts.
Shape dough then freeze flat on a baking sheet before transferring to a zipped freezer bag. Store in the freezer to bake at a later date.
Add fresh lime or orange zest for a citrus twist.
COCKTAIL
COQUITO BY ALEX VALENCIA
Cocktail
Coquito by Alex Valencia
Finish the night with coquitos for great conversations and new memories.
view ingredients | directions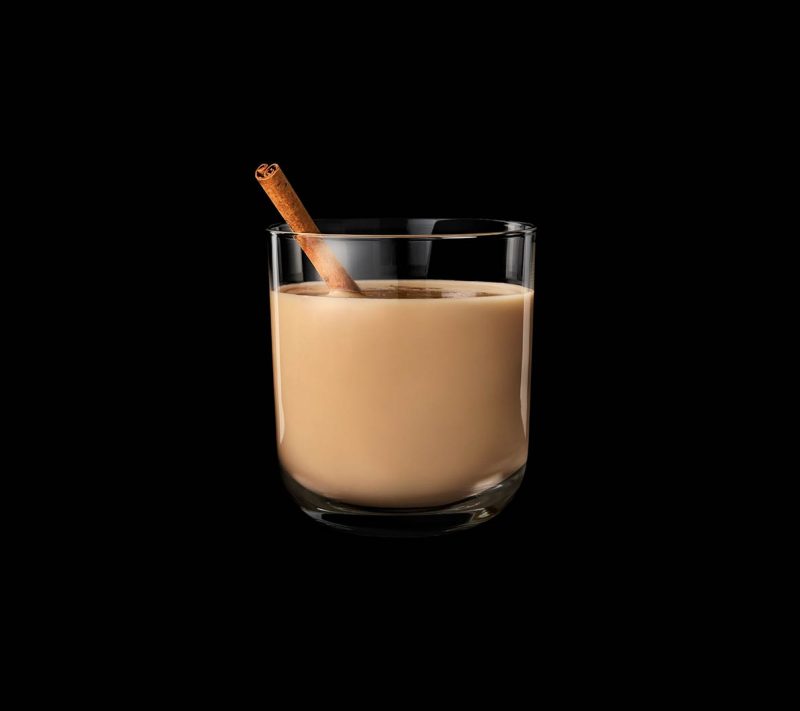 Ingredients
1.5 oz Rémy Martin 1738 Accord Royal
0.75 oz Evaporated Milk
0.75 oz Coconut Cream
0.5 oz Sweetened Condensed Milk
0.5 teaspoon Vanilla Extract
Garnish: Grated Cinnamon and Nutmeg
Directions
Add all ingredients into a blender and blend until smooth.
Grate a dust of Cinnamon and Nutmeg on top.
Glassware: Small rocks glass is ideal. Around 8 oz or so. There is no ice in this.
Garnish: grater tool is best for this.
Tools: Blender.
Can also be used- Shaker tins, strainer, jigger, grater.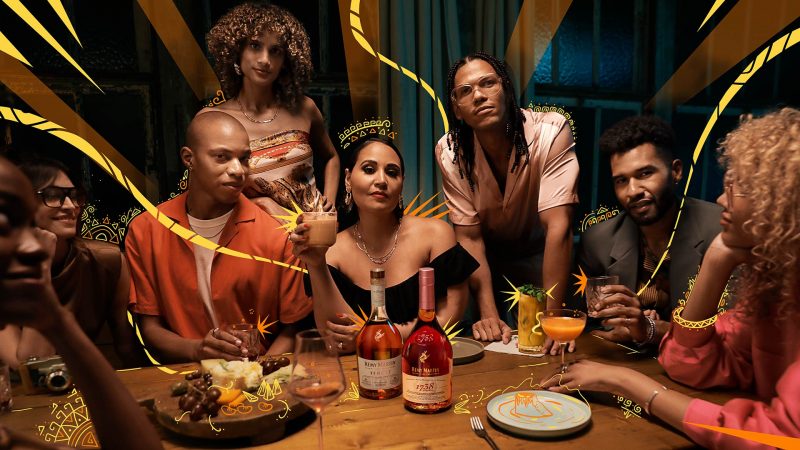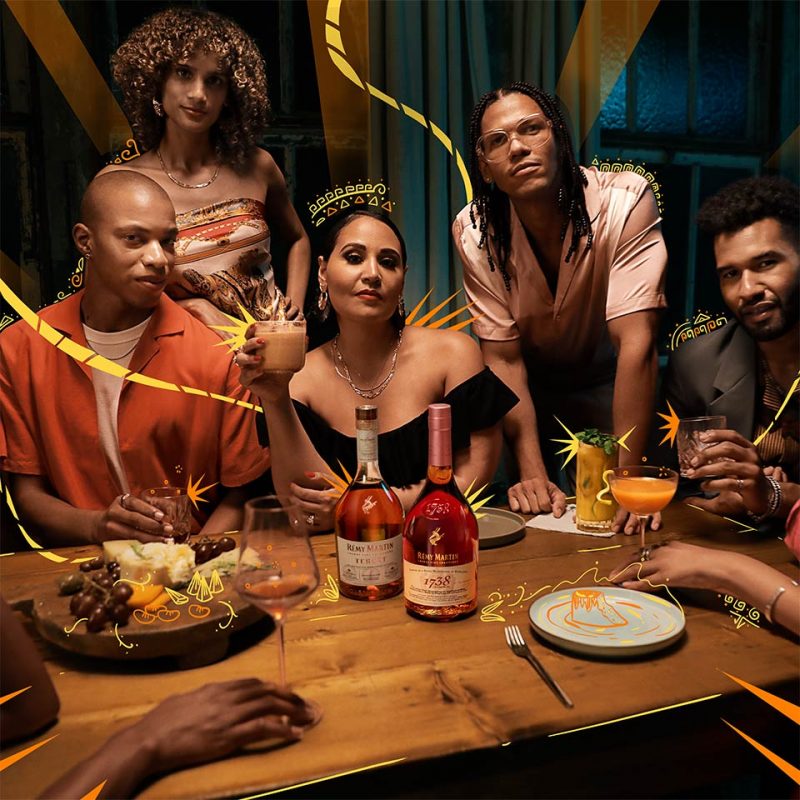 Sabor de SOBREMESA
Rémy Martin continues its commitment to honoring the spirit of excellence through the ritual of Sobremesa, the after-lunch or dinner moment where authentic, compassionate, and genuine conversations are shared between new friends and old.
read more
The Collection
Discover all our Cognacs