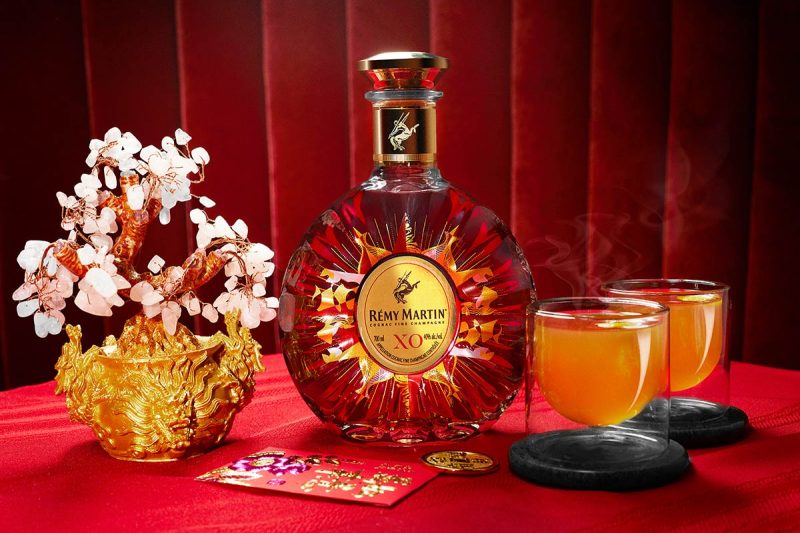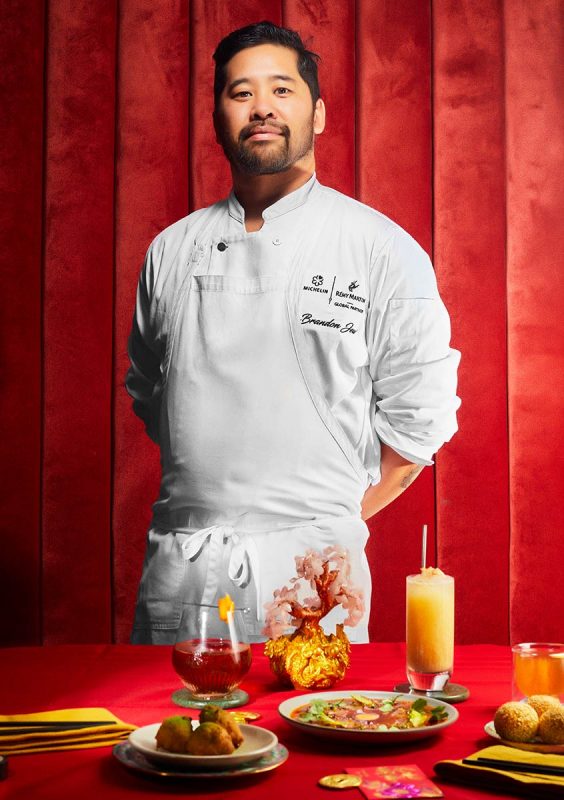 MAIN COURSE AND COCKTAIL PAIRING
by Michelin-starred chef Brandon Jew
For those celebrating Lunar New Year at home, Michelin-starred Chef Brandon Jew created custom culinary and cocktail pairings.
Brandon leveraged his heritage to create festive cocktail creations of his own, as well as traditional recipes that pair perfectly with Rémy Martin XO. See below for the Beef Tendon and The Rémy Elegant recipes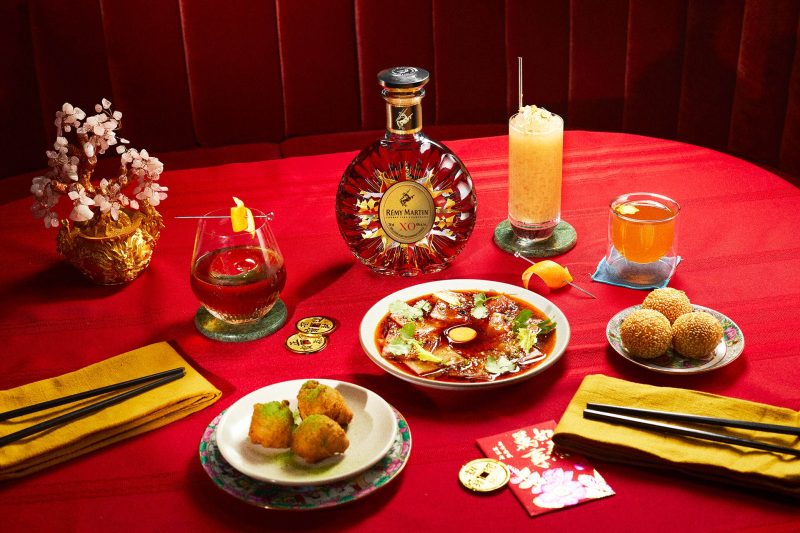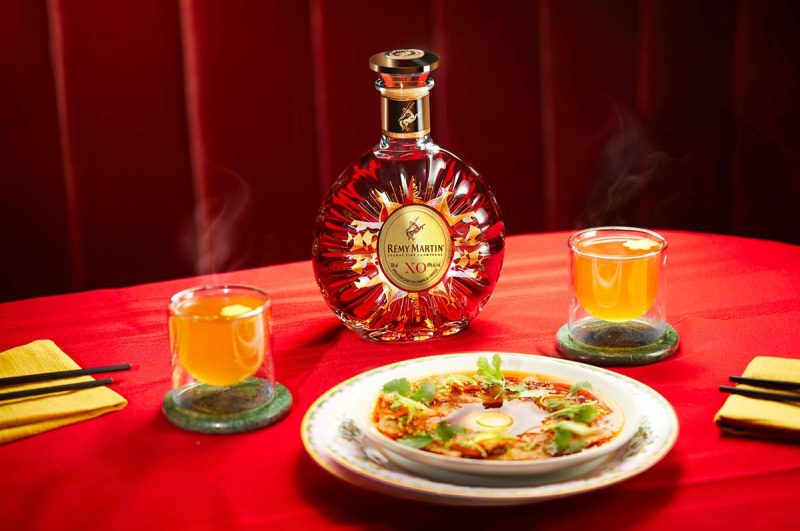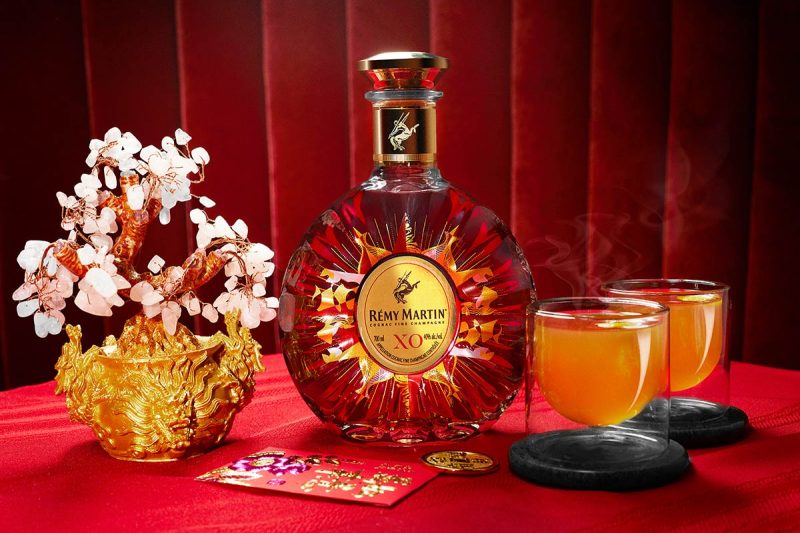 Ingredients
BEEF TENDON WITH LANZHOU CHILI OIL YIELD, Red Pepper Puree AND POTATO CRISPS
BEEF TENDON
3 pounds beef tendon (1,360 grams)
2 1/4 cups water (624 grams), plus more for blanching
1 cup Chinese black vinegar (TK grams)
LANZHOU CHILI OIL YIELD
1/2 cup canola oil (187 grams)
1/8 yellow onion, coarsely chopped (30 grams)
1 medium green onion, coarsely chopped (19 grams)
1 (1/2-inch) piece fresh ginger, peeled and thinly sliced (10 grams)
1 black cardamom pod (1 gram)
1 star anise pod (1 gram)
1/2 small cinnamon stick (about 1 1/2 inches, 1 gram)
1/2 teaspoon Sichuan peppercorns (1 gram)
1/2 teaspoon fennel seeds (1 gram)
1/4 cup Tianjin chili flakes (25 grams)
1 tablespoon white sesame seeds (8 grams)
1 tablespoon black sesame seeds (8 grams)
Dash dark soy sauce
RED PEPPER PUREE
1 pound red bell peppers (about 3 medium, 490 grams)
1/2 cup canola oil (94 grams)
1/2 teaspoon kosher salt (2 grams)
POTATO CRISPS
Russet potato, peeled and rough chopped
5% of the potato weight in garlic clove, peeled Canola oil, enough for deep frying
Kosher salt
BEEF TENDON
1. Bring a large pot of water to a boil over high heat. If you have large pieces of beef tendon, cut into pieces about 4×1-inch. Add the tendon to the water and blanch for 15 minutes. Meanwhile, place the 2 1/4 cups water, black vinegar, and soy sauce in an electric pressure cooker.
2. When the tendon is ready, use tongs and transfer it into the pressure cooker. Seal the pressure cooker and set to cook for 1 hour 15 minutes to 1 1/2 hours on high pressure, until the tendon is very tender and gelatinous.
3. Immediately release the pressure. Using tongs, transfer the tendon to a 9×5-inch loaf pan, packing the pieces in as tightly as possible.
4. Pour the remaining liquid through a fine-mesh strainer into a heatproof bowl or measuring cup with a spout. Let sit until the fat rises to the surface. Skim off the fat. Pour enough of the remaining liquid over the tendon to barely cover. Set aside to cool until lukewarm.
5. Press a sheet of plastic wrap directly on the surface of the terrine. Place a second loaf pan on top of the terrine to weigh it down. If you don't have a loaf pan, refrigerate the terrine until just starting to set, then place a large ziplock bag full of water on top instead. Refrigerate until very firm and set, at least 8 hours or overnight.
6. Unmold by turning over the pan and jiggling. If serving immediately, use a very sharp knife to cut the loaf crosswise into very thin (about 1-cm wide) slices. Otherwise, wrap tightly in plastic wrap and refrigerate for up to 5 days. To freeze, wrap the loaf in another layer of aluminum foil and freeze for up to 3 months. Defrost overnight in the refrigerator.
LANZHOU CHILI OIL YIELD
1. Heat the oil in a small saucepan over medium-high heat until 300°F. Add the onion, green onion, and ginger and fry until the oil reaches 300°F again and the onion is starting to brown around the edges, about 4 minutes. Remove from the heat and add the cardamom, star anise, cinnamon, Sichuan peppercorns, and fennel seeds.
2. Pour the oil mixture through a fine-mesh strainer into a jar or heatproof bowl. Transfer the contents of the strainer into a double layer of cheesecloth. Gather up the sides of the cheesecloth and tie closed with kitchen twine to form a sachet.
3. Add the sachet, chili flakes, white sesame seeds, black sesame seeds, and soy sauce to the oil and stir to combine. Let cool to lukewarm, then cover and let sit overnight at room temperature. Discard the sachet and store in the refrigerator for up to 1 month.
RED PEPPER PUREE
1. Arrange a rack in the upper third of the oven, place a sheet of aluminum foil on the rack, and heat the broiler to high. Place the bell peppers on the foil. Broil, turning every few minutes, until they blacken and blister on all sides, about 20 minutes.
2. Transfer the peppers to a heatproof bowl and cover tightly with plastic wrap. Set aside for 10 minutes to steam the peppers.
3. When the peppers are cool enough to handle, remove their skins and slice them open. Remove the seeds and membranes and discard. Place the peppers, oil, and salt in a blender and blend until smooth. Serve immediately or refrigerate in an airtight container for up to 5 days.
POTATO CRISPS
1. Blend potatoes and garlic into a smooth puree. Load into a squeeze bottle or piping bag. Do not use one with too large of a tip.
2. Heat oil to 300°F in a wok (give alternate vessel). Squeeze out the puree into the oil in strands, like funnel cake. Remove with a spider once barely golden and crisp (about one minute) and drain on a paper towel. The potato will break up into crispy bits as you set it on the paper. Salt immediately. Cool to room temperature and store in an airtight container for up to 1 week.
TO SERVE
1. Garnish: Blood Orange (supreme) & micro celery
2. Place a spoonful of pepper puree on the middle of a plate. Lay 6 slices of tendon in a ring around the puree, then sprinkle potato crisps and drizzle chili oil over the ring. Garnish with a few halves of blood orange segments and micro celery.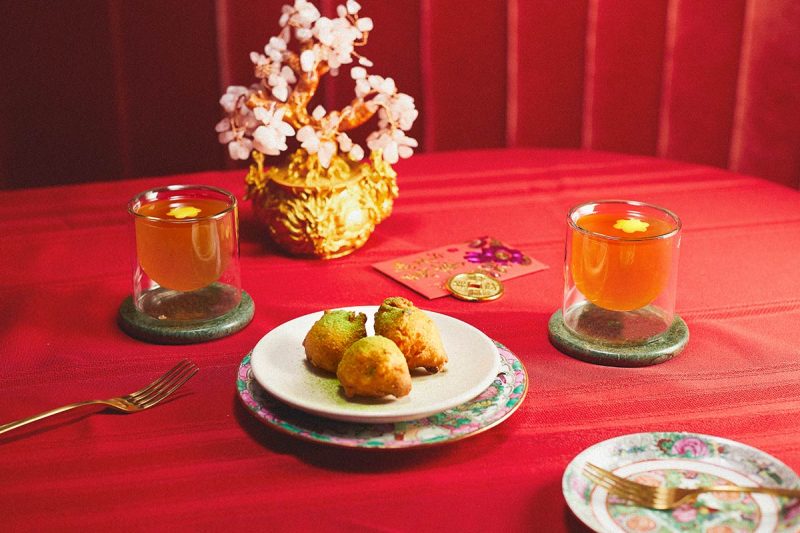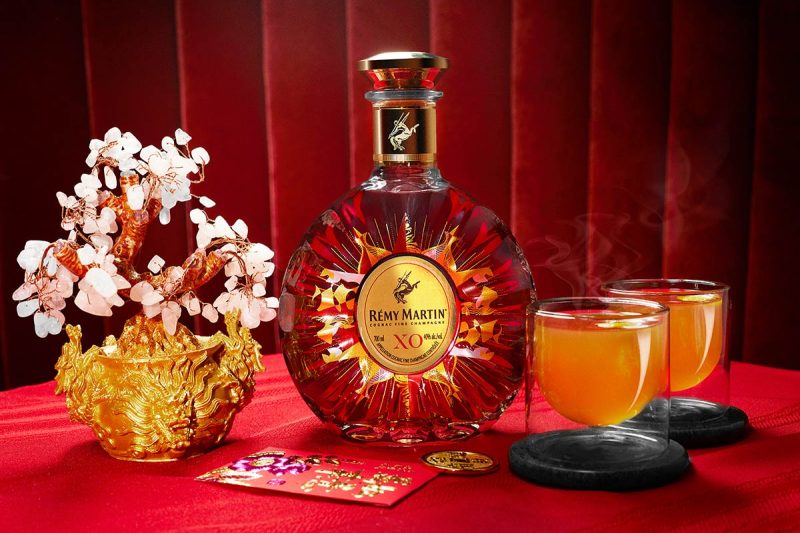 Ingredients
Rémy Martin XO "Elegant"
1.5 oz Rémy XO
1 oz Apple Syrup
1/2 oz Lemon
4 oz hot Chrysanthemum tea
Apple Syrup
1 cup organic unfiltered apple juice
1 cup sugar
Tools:
Whisk
Measuring cup
Medium sized sauce pan
Apple Syrup
Bring apple juice to a boil and remove from heat. Add your sugar whisking until it is completely dissolved. Let cool to room temp. Store in a glass jar and seal with lid. Keep syrup refrigerated up to 7 days.
Cocktail Directions
1. Fill your ceramic cup with hot water to temp the vessel. Discard water and pour Rémy XO, Apple syrup, and lemon into the hot tempered ceramic cup.
2. Then pour in 4oz of hot chrysanthemum tea. Garnish with a lemon peel.
celebrate lunar new year
with auspicious food & Rémy Martin XO

RÉMY MARTIN PRESENTS:
THE LUNAR NEW YEAR FAMILY SPIRIT CELEBRATION
Join our Lunar New Year celebration and discover how our Rémy Martin family teams up to enjoy the holiday.
view the experience
The Collection
Discover all our Cognacs