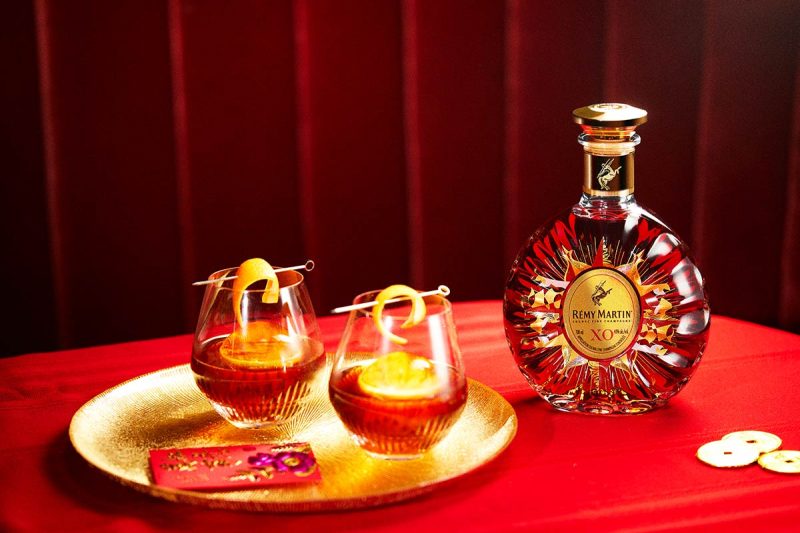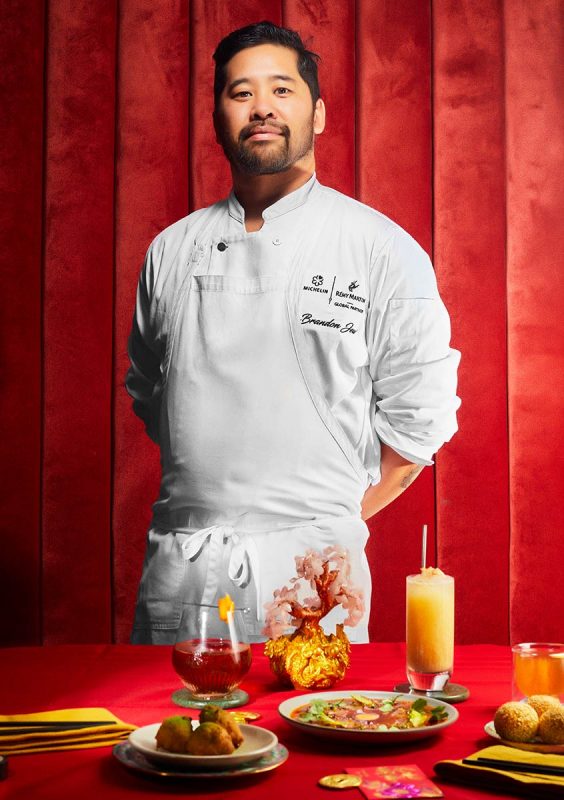 DESSERT AND COCKTAIL PAIRING
by Michelin-starred chef Brandon Jew
For those celebrating Lunar New Year at home, Michelin-starred Chef Brandon Jew created custom culinary and cocktail pairings.
Brandon leveraged his heritage to create festive cocktail creations of his own, as well as traditional recipes that pair perfectly with Rémy Martin XO. See below for the Jian Dui and the Rémy Kind recipes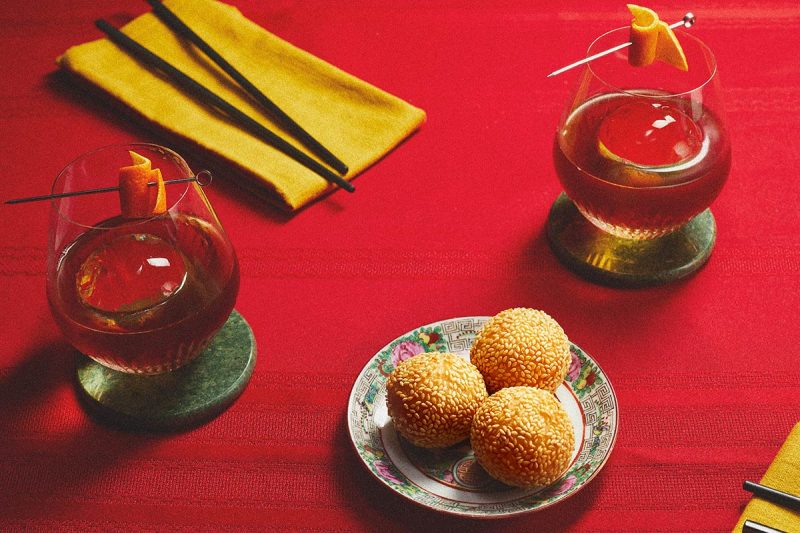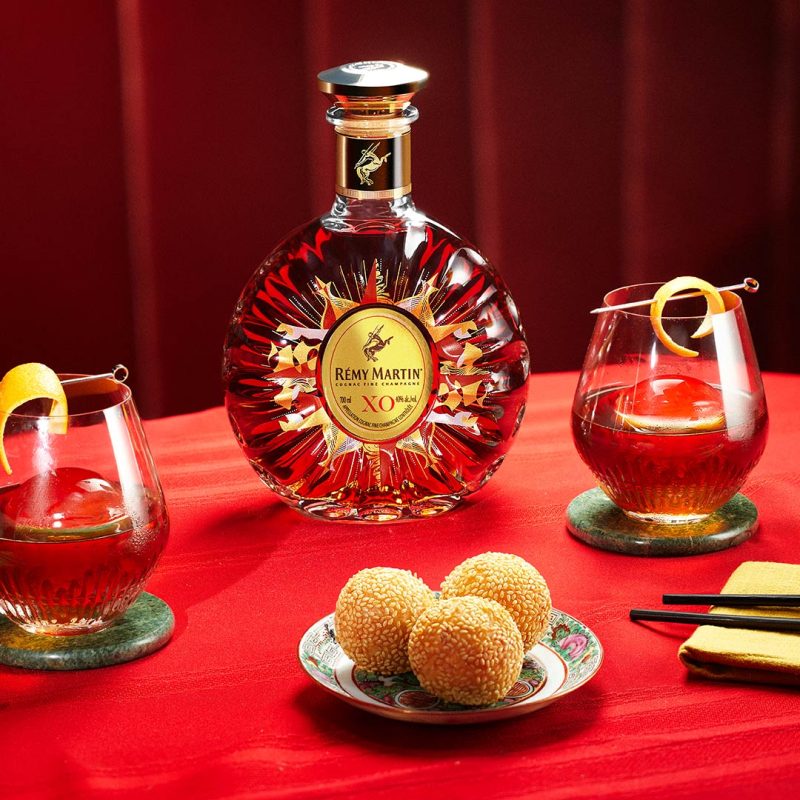 Ingredients
Jian Dui
Dough
230 g Glutinous Rice Flour
68 g Sugar
145 g Water
2 g Salt
Chestnut Filling
1290 g chestnut puree
300 g red bean paste
450 g sugar
15 g apple cider vinegar
30 g salt
30 g vanilla extract
JIAN DUI
1. To make the dough, place rice flour and sugar in a stand mixer bowl with paddle attachment.
2. Bring a pot of approximately 500g of water to a boil.
3. Stream in 145g of the hot water into the flour while mixing on low.
4. When the dough comes together, form a 40g ball of dough and boil it in the water until it floats (about 5 minutes).
5. Place the cooked dough in the mixer bowl and paddle until a homogenous dough forms, using a bowl scraper to scrape the bottom and sides of the bowl. Dough will be sticky.
6. Turn out the dough onto plastic wrap lined with rice flour and let rest for 30 minutes.
7. Portion into 35g balls.
8. Fill with frozen filling of choice, weighed to 9g. Dip filled dumpling in water, roll in sesame seeds, using palms to roll into a ball and press in seeds, and freeze.
9. Fry at 350 degrees for 11 minutes, until golden brown and they float.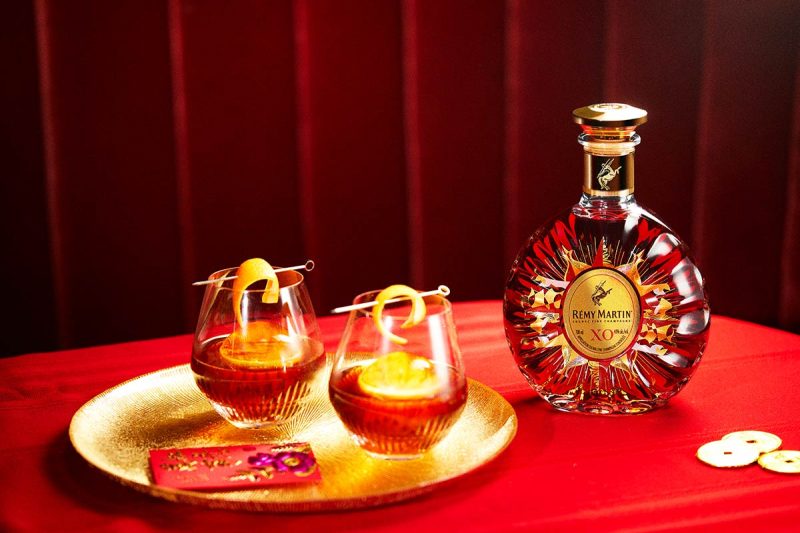 Ingredients
Rémy Martin XO "Kind"
1.5 oz Rémy Martin XO
5 oz Nocino
0.25 oz preserved winter melon syrup
3 dashes angostura bitters
1. Start by building your cocktail in a mixing glass first by add Rémy Martin XO.
2. Add Nocino, add winter melon syrup.
3. Next add enough ice to fill the mixing glass and stir consistently with a long bar spoon for 6 revolutions.
4. Add 3 dashes of angostura bitters. Stir again for 3 revolutions.
5. Strain the cocktail using a julep strainer into a rocks glass.
6. Serve with one large ice cube. Garnish with an orange twist.
celebrate lunar new year
with auspicious food & Rémy Martin XO

RÉMY MARTIN PRESENTS:
THE LUNAR NEW YEAR FAMILY SPIRIT CELEBRATION
Join our Lunar New Year celebration and discover how our Rémy Martin family teams up to enjoy the holiday.
view the experience
The Collection
Discover all our Cognacs