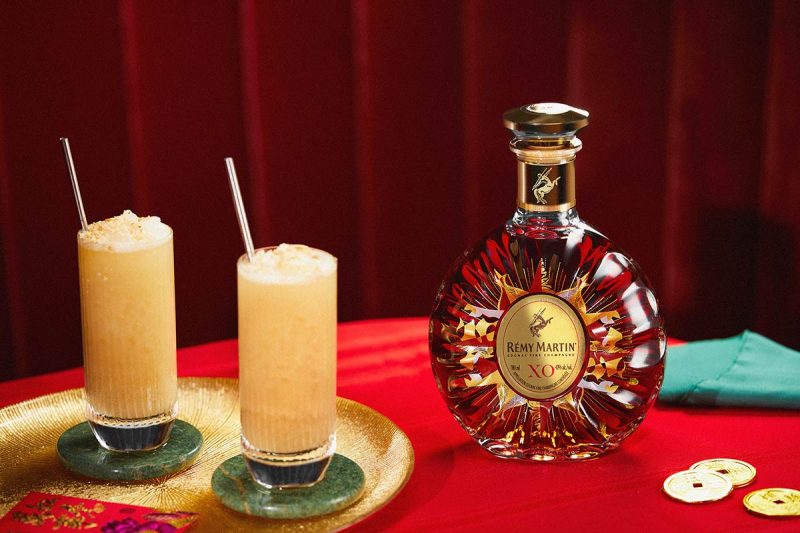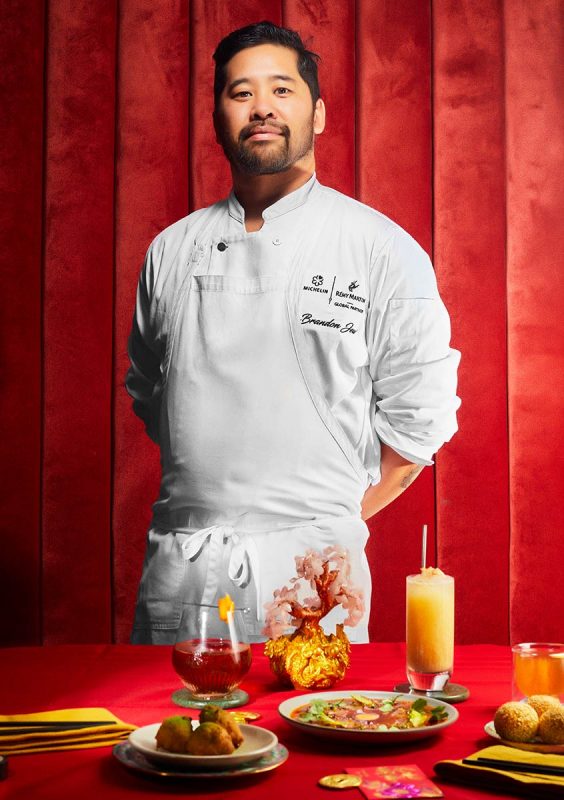 APPETIZER AND COCKTAIL PAIRING
by Michelin-starred chef Brandon Jew
For those celebrating Lunar New Year at home, Michelin-starred Chef Brandon Jew created custom culinary and cocktail pairings.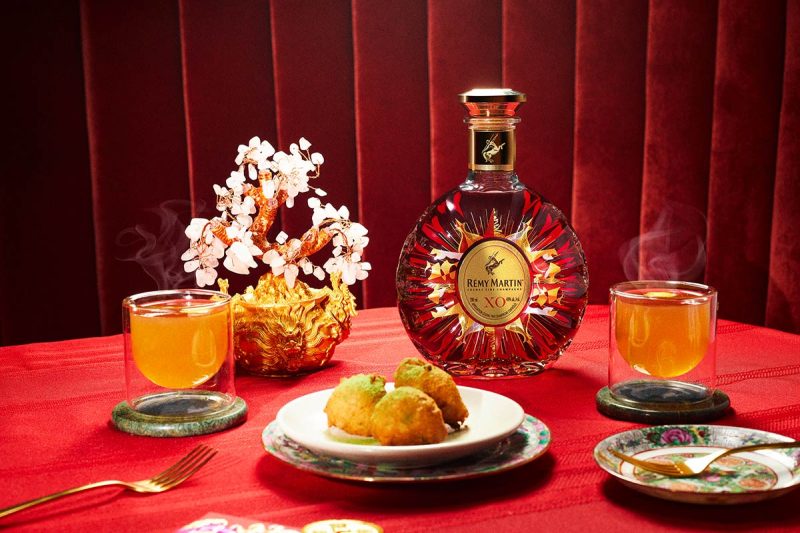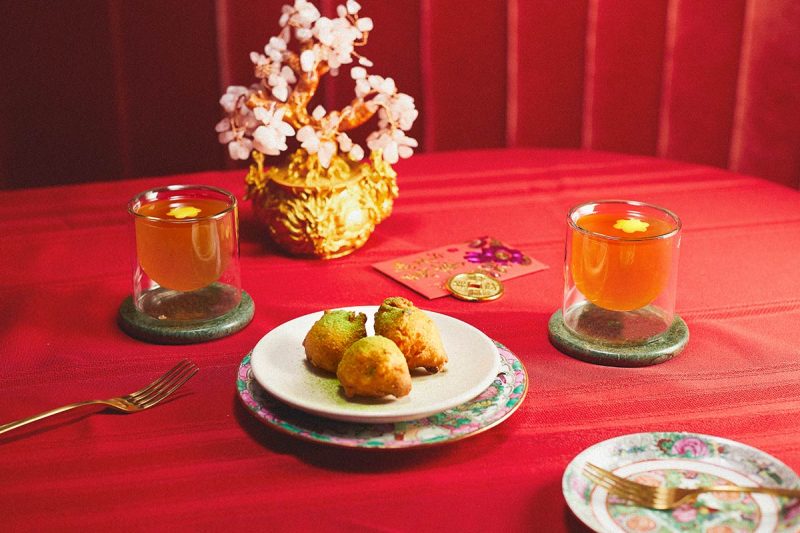 Ingredients
Smoked Oyster Youtiao
1 1/2 cups cake flour (220 grams)
2 teaspoons granulated cane sugar (8 grams)
1 1/2 teaspoons sea salt (4 grams)
1 1/2 teaspoons instant yeast (5 grams)
1 cup whole milk (240 grams), warmed to 110°F
2/3 cup small dice drained Smoked Oysters (150 grams)
1/4 cup thinly sliced green onions (16 grams)
1 1/2 teaspoons oyster sauce (10 grams)
6 cups canola oil (1,290 grams), for deep frying
SMOKED OYSTER YOUTIAO
1. Place the flour, sugar, salt, and yeast in a large bowl and whisk to combine. Pour in the milk and stir until just forming a smooth, wet batter. Stir in the smoked oysters, green onions, and oyster sauce. Cover with a damp kitchen towel and set aside in a warm place for 15 minutes. It should have grown to about a third larger and be speckled with bubbles. This batter can be finicky, and it is better to underproof. Over proofed batter is watery and deflated and will fry up like hockey pucks. Meanwhile, heat the oil.
2. To get the right crispy and fluffy ratio, double fry. For the first round, fill a wok or Dutch oven with the oil and secure a deep-fry thermometer on the side of the pot. Heat the oil to 325°F over medium-high heat, being careful to maintain this temperature as you fry. Frying in batches of 6 max, gently drop the batter in 2-tablespoon portions (or use a 1-ounce scoop) into the hot oil. They should sink first and then float up. Gently stir them after a minute in case they're stuck on the bottom, otherwise leave them alone until they have turned barely golden, about 3 minutes total. Transfer to a wire rack fitted over a baking sheet. At this point, the youtiao can wait at room temperature up to 1 hour. You can also freeze them solid in a zip top bag up to 2 months, and thaw before the final fry.
3. For the last fry, heat the oil over medium-high heat to 350°F. Set up holding station with a wire rack fitted over a baking sheet in the oven set to 200°F. Fry in batches of no more than 6 again until dark golden brown, 2 to 2 1/2 minutes. Transfer to the rack in the oven as you fry each batch. Serve hot, dusted with green onion powder.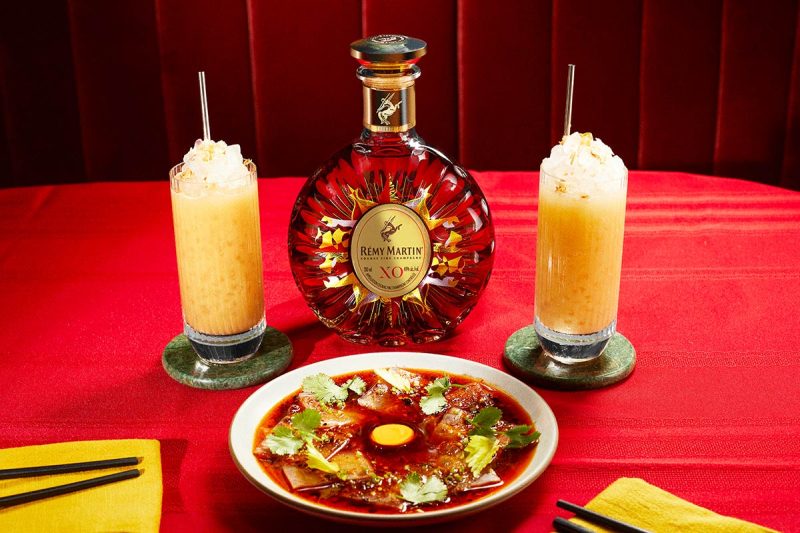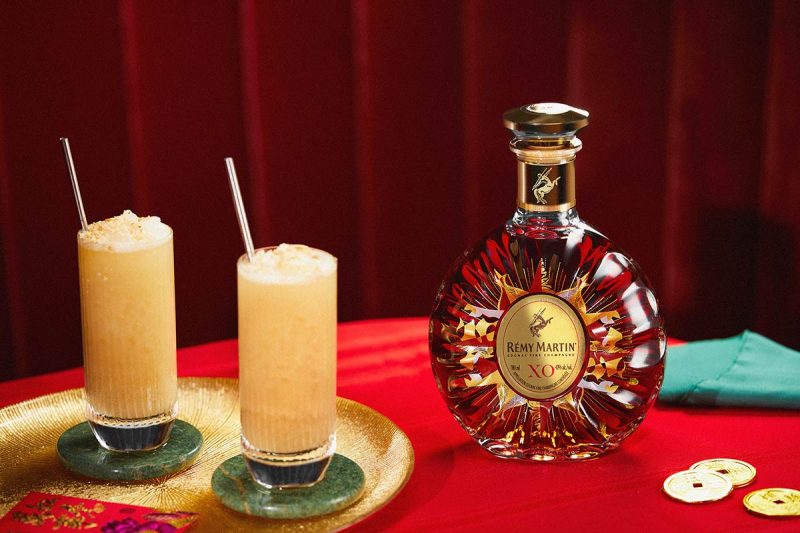 Ingredients
Rémy Martin XO "Gentle"
1oz Rémy Martin XO
1/2 oz Amaro (Cardamaro)
1 oz Coconut Rice Syrup
9 dashes Fig Leaf Tincture
1/2 oz Lime Juice
1/2 oz Simple syrup
For the Coconut Rice Milk:
1 can Coconut Cream (Coco Lopez)
1 1/2 Cups Jasmine rice
2 1/2 cups hot filtered water
Tools:
Large Mixing Bowl
Blender
Fine Strainer
For the Fig leaf tincture:

750 ml Overproof grain alcohol (Everclear)
25 g fig leaf
Tools:
Large mason jar with lid (32oz)
Large Baking Sheet Trap
Fine mesh strainer
1. Combine All ingredients in a cocktail shaker, fill with ice. Shake.
2. Strain into a Collins glass or a large rocks glass filled with ice.
4. Garnish with Toasted Coconut Shreds.
Coconut Rice Milk
Combine all ingredients in a mixing bowl. Pour ingredients into blender pitcher and blend on low working your way up to high until all ingredients are incorporated into a creamy syrup. Strain through fine mesh strainer ensuring your syrup doesn't have any pieces of rice left behind.
Fig leaf tincture
Preheat oven to 325. Lay fig leaves flat on sheet tray. Place in oven for 10 min. Toasting until the fig leaves turn slightly brown and are aromatic. Fill mason jar with over proof grain alcohol add your toasted fig leaves and cover tightly with a lid. Let it sit for 5 days to infuse. After 5 days strain through a fine mesh strainer and rebottle into a bitters dasher.
celebrate lunar new year
with auspicious food & Rémy Martin XO

RÉMY MARTIN PRESENTS:
THE LUNAR NEW YEAR FAMILY SPIRIT CELEBRATION
Join our Lunar New Year celebration and discover how our Rémy Martin family teams up to enjoy the holiday.
view the experience
The Collection
Discover all our Cognacs