Flavor by the Grill
Midwest edition
Smoked Hotdog with 3 Bean Chili Recipe – Rémy Martin
THE MIDWEST
SMOKED HOTDOG WITH 3 BEAN CHILLI, AVOCADO MUSTARD AND 1738 Accord Royal
Full of taste and twists, this episode shows how Chef Kwame makes a Midwestern classic pair perfectly with Rémy Martin 1738 Accord Royal. Inspired by his mother, Chef Kwame makes a grilled dish that's filled with warm memories and a range of flavors.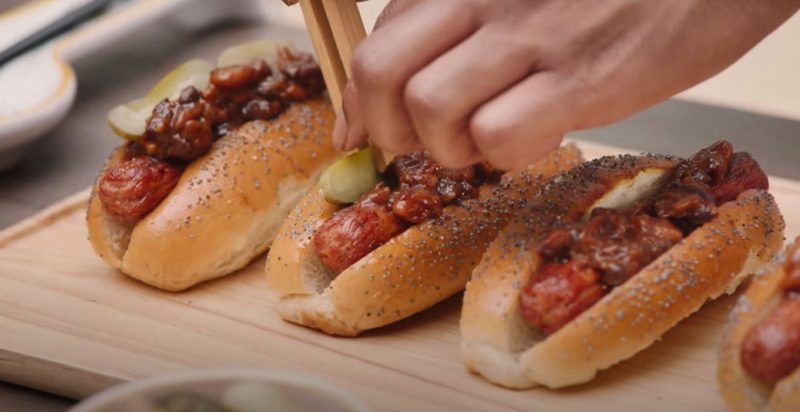 INGREDIENTS
Smoked Hotdog with 3 Bean Chilli, Avocado Mustard and 1738 Accord Royal
All beef hot dogs 4 each
Poppy seed hot dog bun 4 each
FOR THE CHILI:
Kidney beans 1 can
Black beans 1 can
Pinto beans 1 can
Cumin 1 teaspoon
Bacon, minced 3 slices
Brown sugar 2 tablespoons
BBQ sauce 1 cup
Chipotle in adobo sauce, minced 1 each
Crushed tomatoes 2 cups
Chili powder ½ tablespoon
Chopped garlic 2 tablespoons
Yellow onion, diced 1 each
FOR THE AVOCADO MUSTARD:
Avocado 2 each
Dijon mustard 2 tablespoons
Lemon, juiced 1 each
Salt as needed
GARNISH:
Cornichons, sliced lengthwise
Red onions, diced
Parsley fronds
Sweat garlic, bacon and onions in a neutral oil for 10 minutes. Add all other ingredients and simmer for 20 minutes. Season with salt.
Process all ingredients for avocado mustard in a food processor until smooth. Season with lemon juice and salt.
Grill dogs until blistered. Place in buns, top with chili. Then top with avocado mustard, diced onions, cornichons lining the bun, and parsley.