Flavor by the Grill
South edition
BBQ Baby Back Ribs with Collard Slaw Recipe – Rémy Martin
THE SOUTH
Creole Cognac BBQ Glazed Ribs with Collard Slaw and Rémy Martin V.S.O.P.
Chef Kwame brings the flavors of the Southern grill and Rémy Martin V.S.O.P. to this dish, while sharing stories of his family's influence on his career and life. All the elements come together to create a delicious and new classic meal.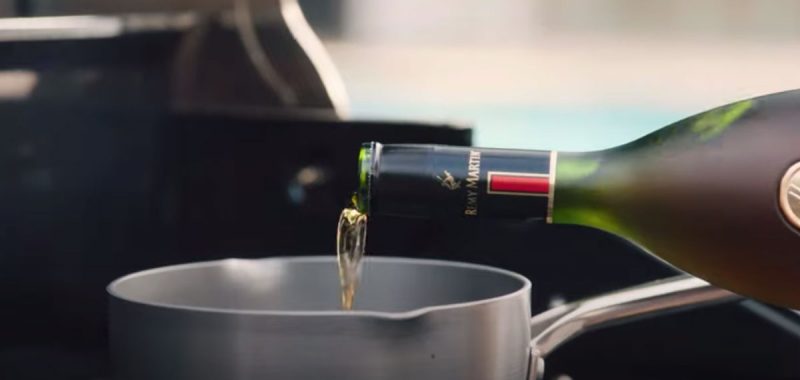 INGREDIENTS
Grilled Lobster Salad and Steamed Clams
Baby Back ribs 2 slabs
Creole seasoning
Thyme
Garlic, chopped 2 tablespoons
White onion, sliced 1 each
Tomato paste 2 tablespoons
Rémy Martin® V.S.O.P 1 cup
Creole seasoning ½ tablespoon
Whole grain mustard 1 tablespoon
Ketchup, Heinz 2 cups
Brown sugar 3 tablespoons
Collard greens, julienned 2 cups
Carrots, julienned ½ cup
Chayote squash, julienned ½ cup
Pear, julienned ½ cup
Hot pimento 1 teaspoon
Chopped garlic 1 teaspoon
Mayo 1 cup
Apple cider vinegar 3 tablespoons
Salt as needed
GARNISH:
Chives
Pickled Red pepper rings
Season the ribs with creole spice and thyme. Wrap in plastic wrap and then foil. Cook at 250 degrees on a sheet pan for 6 hours. Let cool overnight.
For the sauce, sweat onions and garlic for 10 minutes. Add tomato paste and cook until rusty colored, about 5 minutes. Deglaze with Rémy Martin® V.S.O.P. Add all other ingredients and simmer for 20 minutes. Finish with mustard and season with salt.
For the collard greens, mix all ingredients together.
To finish the ribs, remove from plastic and foil. Place on a hot grill and periodically brush with the sauce.
Place collard slaw on the plate and put the ribs next to it. Garnish ribs with red pepper rings and chives.