USHER X 1738
A.I. POWERED
USHER X 1738 A.I. POWERED
LIMITED EDITION NFT BOTTLE
Rémy Martin teams up with Grammy award-winning musical artist Usher and A.I. technology to reveal the invisible, the taste of 1738 Accord Royal presented in a rare limited-edition and coupled with immersive experience.
A limited-edition bottle and NFT whose design was inspired by A.I. integrated technology.
Reimagined in black and featuring a special seal that celebrates Usher's 25th anniversary of My Way, the emblematic 1738 Accord Royal bottle brings Usher's "Taste of Passion" to life with a design that now aptly embodies the harmony of music, technology and art.
"MAKE THE INVISIBLE VISIBLE" – USHER
When creating the "Usher x 1738 A.I. Powered" limited-edition, Usher used his own musical vocabulary to describe his olfactory experience with the renowned Rémy Martin 1738 Accord Royal, a smooth Cognac characterized by notes of toasted bread, vanilla and brioche.

Fed through A.I. technology, known as Generative Adversarial Neural Networks and Contrastive Language-Image Pre-Training, the avant-garde depiction of tasting notes transformed Usher's words into artwork that makes the invisible, visible.
Purchase on BlockBar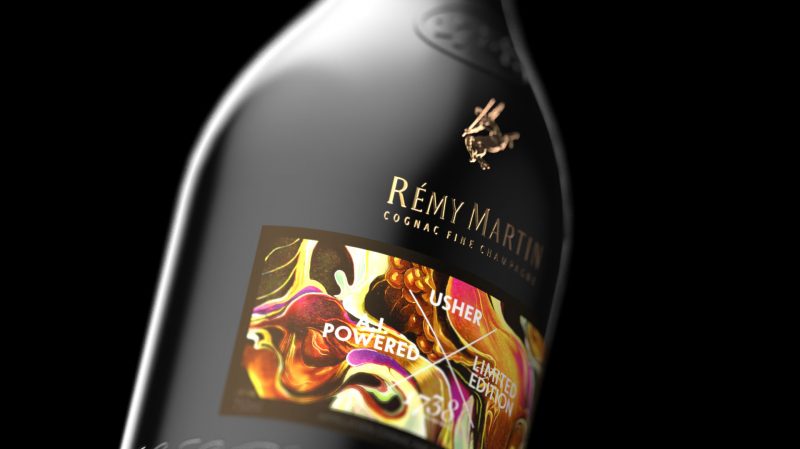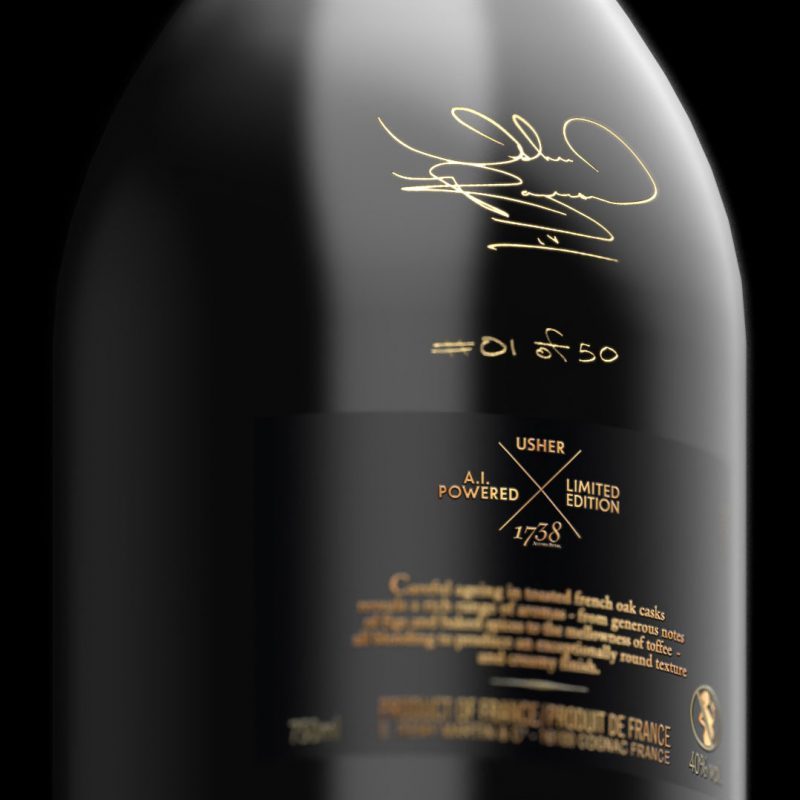 50 LIMITED EDITIONS EXCLUSIVELY ON BLOCKBAR.COM
25 Usher x 1738: A.I. Powered limited-edition bottles will be available to purchase exclusively on BlockBar.com, the world's first direct-to-consumer NFT marketplace for luxury wines and spirits. Users who successfully check out will receive an NFT representing the physical bottle, which is stored with BlockBar until the bottle is ready to redeem.
The 25 remaining bottles will be gifted to Usher and his team to celebrate the 25th anniversary of My Way.
The drop goes live at 10AM EST on Friday, July 29 2022.
Each NFT is uniquely marked, and each purchase comes with the option of keeping the NFT, reselling it on BlockBar.com's marketplace, or redeeming it for the physical bottle beginning in October 2022.