MICHELIN Guide Collaboration with
Chef Kyle Connaughton
Today's recipe is combining Sonoma grain porridge, Saikyo miso and chestnuts with Rémy Martin XO. A recipe from Michelin Starred Chef Kyle Connaughton.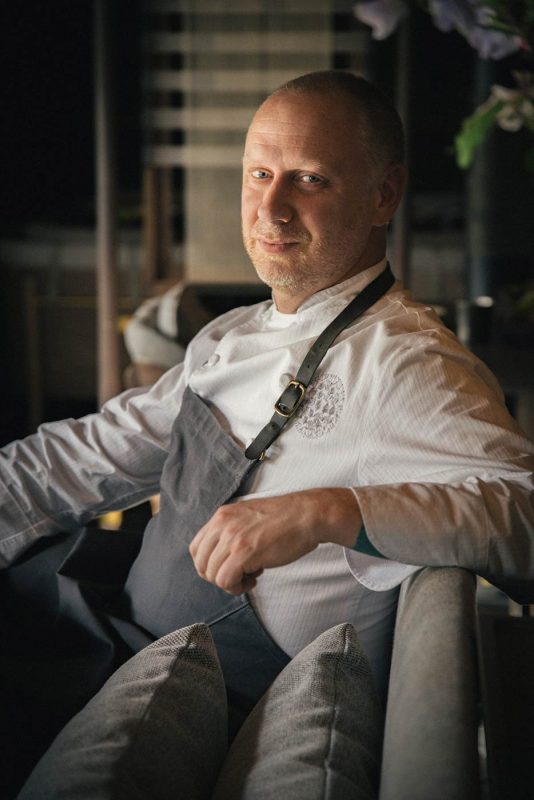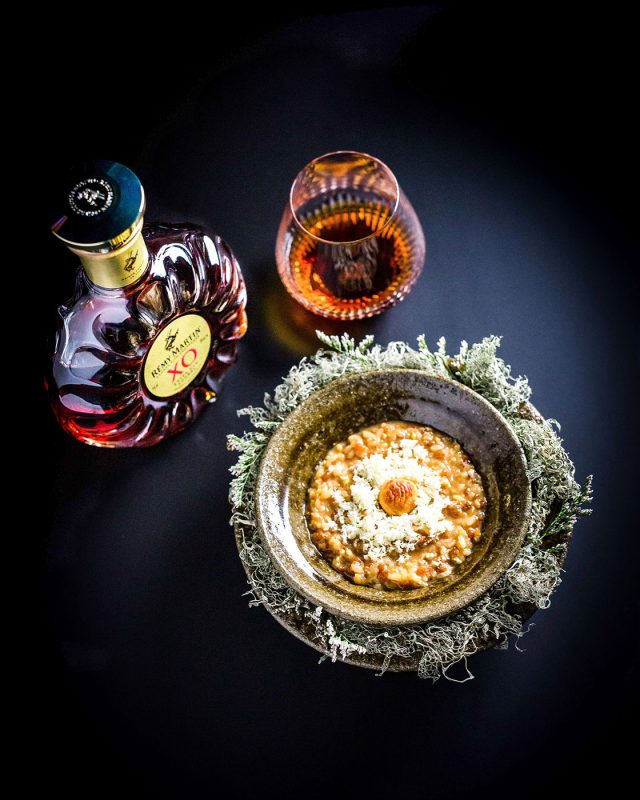 SONOMA GRAIN PORRIDGE, SAIKYO MISO AND CHESTNUTS WITH RÉMY MARTIN XO BY CHEF KYLE CONNAUGHTON
About Chef Kyle Connaughton
Kyle Connaughton began his culinary career in L.A. with an apprenticeship at one of the oldest Japanese restaurants in the city and continued training in both pastry and savory at Spago Beverly Hills, The Dining Room at Ritz Carlton, Lucques, Hama Sushi, and A.O.C. This was followed by several years cooking in Japan for the famed chef Michel Bras and in numerous traditional Japanese cuisine restaurants. In 2006, Kyle joined Heston Blumenthal to become the Head Chef of Research and Development for the Fat Duck Experimental Kitchen. He is a contributor to the "Modernist Cuisine" series, a co-developer of the Culinary Science Bachelors Degree program for the CIA, and co-author of the book Donabe – Classic and Modern Japanese Clay Pot Cooking.
Your impression of Rémy Martin XO? ​
The versatility of the pairing opportunity is remarkable
Why did you use this product, and not another one from our range?
Rémy Martin XO has such a long
delicate finish it is ideal for a special occasion or celebratory evening.
How does your recipe and its ingredients match with Rémy Martin XO? What flavours are revealed?​
The chestnut miso puree folded into the grains provides a nutty and full–bodied texture that builds upon the round and toasted notes found in the Rémy Martin XO. An additional sweetness of the Rémy Martin XO is revealed when paired with the depth of umami from the miso.
"An additional sweetness of Rémy Martin XO is revealed when paired with the depth of umami from the miso."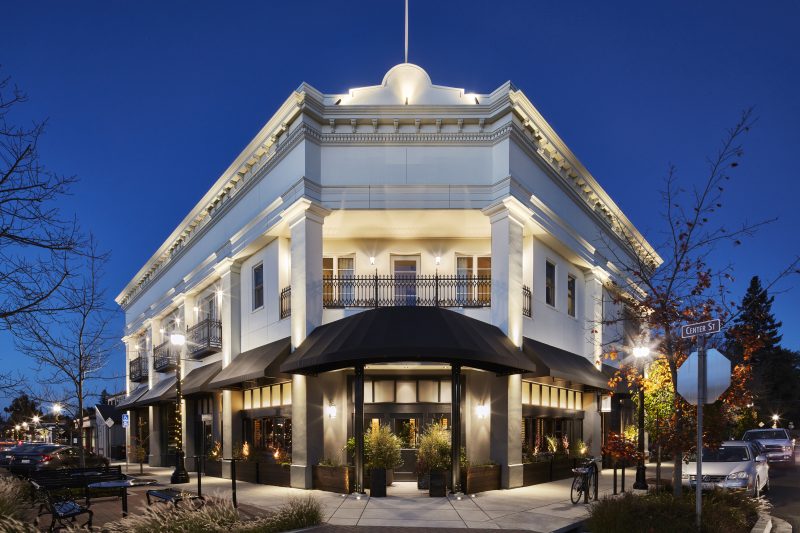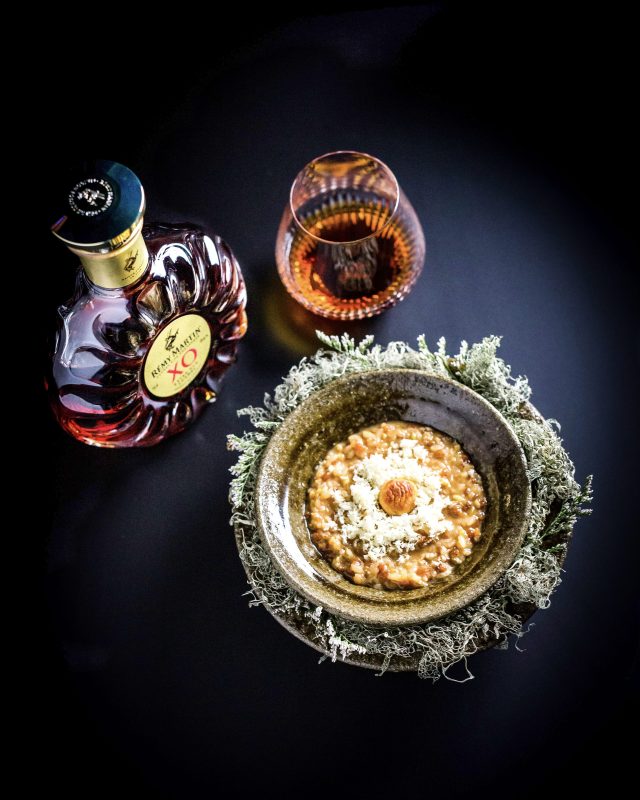 SONOMA GRAIN PORRIDGE, SAIKYO MISO AND CHESTNUTS WITH RÉMY MARTIN XO BY CHEF KYLE CONNAUGHTON
INGREDIENTS
FOR THE GRAINS & THE CHESTNUT PUREE:
2 cups Japanese rice
1 cup Farro Verde
0,5 cup pearl barley
0,5 cup quinoa
225g onion, thinly sliced
230g chestnut, peeled
20g butter
60g Japanese soy sauce
50g crème fraiche
FOR THE SAIKYO MISO:
100g white or sweet miso
100g butter
30g kombu (dried kelp)
1L filtered water
Neutral oil to taste
Salt to taste
STEP 1
To cook the grains:
In a saucepan, cook the grains separately according to the recommendations of the package. Let them cool before mixing them together.
STEP 2
Prepare the konbu dashi:
Steep the Kombu in cold water for 30 mins. Bring up to 60°C (140°F) for 1 hour and strain.
STEP 3
To roast the chestnuts:
Take 100g of chestnuts, toss in neutral oil and bake at 180°C (356°F) in oven till lightly caramelized and aromatic.
STEP 4
To make the chestnut puree:
Roughly chop the chestnuts. In a pan, melt the butter, add the onion and chestnuts and begin sweating for 10 mints, stirring continuously.
Deglaze the pan with the soy sauce and kombu dashi. Bring to a light simmer until the chestnuts are fully cooked and tender. Blend the ingredients together until smooth and let cool. Once room temperature, fold in the crème fraiche and store in a container in the fridge.
STEP 5
For the miso butter:
Mix the miso and butter in a separate bowl.
STEP 6
To make the porridge:
Mix together the grand, put in a small pot with 100g of kombu dashi. Bring to a simmer and fold 25g miso butter once the liquid begins to thicken. Pull off heat and fold in chestnut puree, seasoning with salt.
STEP 7:
To serve:
Warm roasted chestnut pieces in a pan with some miso butter to taste. Place the porridge mixture in a bowl. (It should be loosely similar to the risotto as it will thicken as it cools). Place pieces of roasted chestnut pieces.
Serve with a glass of Rémy Martin XO.
Share your version with us 👉 Tag @remymartin and @michelinguide and use #TeamUpForExcellence and #MICHELINGUIDEATHOME
The Collection
Discover all our Cognacs