Our collaborations
Chef Carlos Gaytán
These recipes are a tribute to Chef Gaytán's Hispanic Heritage served on a plate, and brought together by a celebration of the rich and deep flavors that Hispanic cultures provide. Drawing from his Mexican heritage and passion for French techniques, these dishes combine the best of both worlds.

Foie and Chocolate & the 1738 French Sip | Black Velvet Mascarpone & Tercet Pear Espectro
Recipes by Chef Carlos Gaytan
The 1738 French Sip & Foie and Chocolate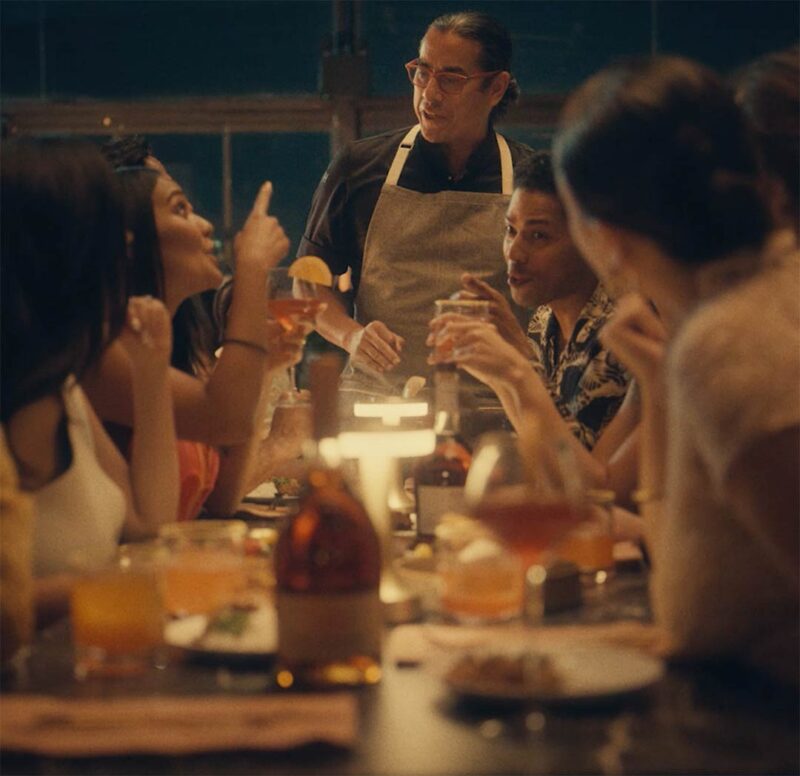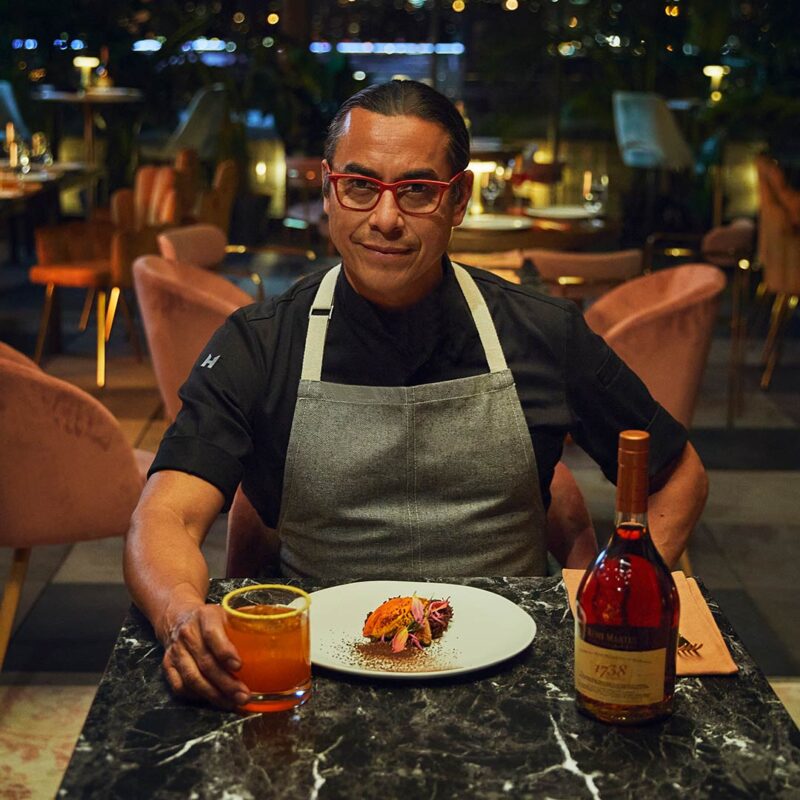 Foie and Chocolate
Ingredients
Foie mousse:
5 oz Foie gras
0.4 oz Shallots
¼ cup Corn liquor
1 cup Heavy cream
1.5 oz White chocolate
Pinch of salt
8 oz Cocoa butter
Yellow Cocoa Butter Spray
Fig and bacon marmalade:
2.7 oz figs
1.7 oz Smoked bacon
¼ cup Red wine vinegar
1 oz Sugar
Plating:
1 piece Toasted brioche bread
FOIE AND CHOCOLATE
Method
Fig Marmalade:
1. Cut the smoked bacon into small pieces and place them in a medium heat skillet.
2. Cut the figs and add them to the skillet along with red wine vinegar and sugar. Cook for about 7–8 minutes.
3. Once cooked, transfer the mixture to a blender and blend until smooth.
4. Pour the blended mixture into a plastic bottle for later use.
Foie Gras Mousse:
1. In a medium heat pot, place the shallots and corn liquor. Let it reduce for 3 minutes.
2. Then, add the heavy cream and stir. Continue cooking over medium heat for 3 to 5 minutes.
3. Meanwhile, on a cutting board, cut the foie gras into small pieces and keep it at room temperature.
4. Add the foie gras one by one and the white chocolate to the pot mixture while continuously stirring until everything becomes smooth and homogeneous.
5. Season the mixture with a pinch of salt, and then transfer it to a blender.
6. After blending, strain the mixture through a sieve to remove any remaining foie gras bits.
7. Once strained, pour the mixture into individual molds and freeze for a minimum of 4 hours.
8. Take out the molds from the freezer.
9. In a plastic bowl, add the cocoa butter and melt it in the microwave for about 2 to 3 minutes.
10. Use a stick to dip the molds in the melted cocoa butter.
11. Colocate the molds in a tray and put it back in the freezer for another 30 minutes.
12. Once again, take out the molds. Paint them with the yellow cocoa spray and keep it at room temperature.
Plating:
Serve the foie gras mousse with toasted brioche bread and a side of fig and bacon jam.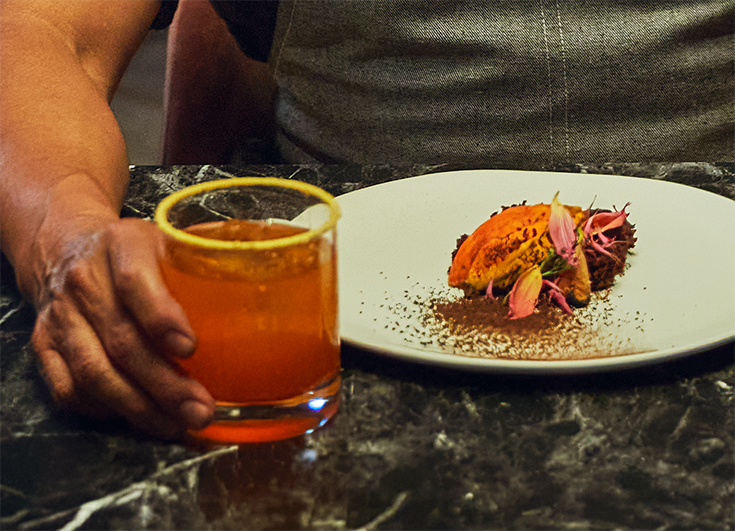 Ingredients & Directions
Ingredients:
1.5 oz Rémy Martin 1738 Accord Royal
0.5 oz Caramelized onion syrup
0.75 oz Lemon juice
Freeze dried Mandarin rim
Topped Mandarin Soda (Topo Chico)
Green Onion Syrup:
1. Wash green onions thoroughly.
2. Starting from the green tips, cut 1/6th inch slices until you reach the white roots. (Do not cut the white part. Cut enough green onions to fit a 16oz container)
3. Bring 2.5 cups of water to a boil and add 50 grams of salt.
4. Once water comes to a rolling boil, add chopped green onions and let blanch.
5. Strain onions and save leftover salted water.
6. Take strained onions and sauté until golden brown.
7. Add browned onions to salted water and add 2.5 cups of sugar to a pot.
8. On low heat, combine sugar water and onions and stir until all sugar granules are dissolved.
9. Fine strain and squeeze out excess syrup from onions into a container.
10. Add two stalks of green onion roots to warm syrup and let steep overnight.
Method:
Add Cognac, green onion syrup, and lemon juice to a shaker tin with ice and shake.
Double strain cocktail into a coupe that has been rimmed with the pulverized freeze dried mandarin.
Top the cocktail with Mandarin Topo Chico soda. Serve in a rocks glass.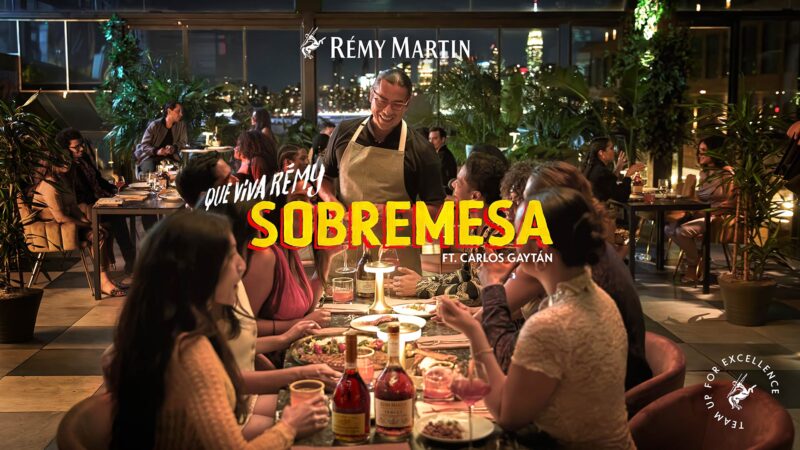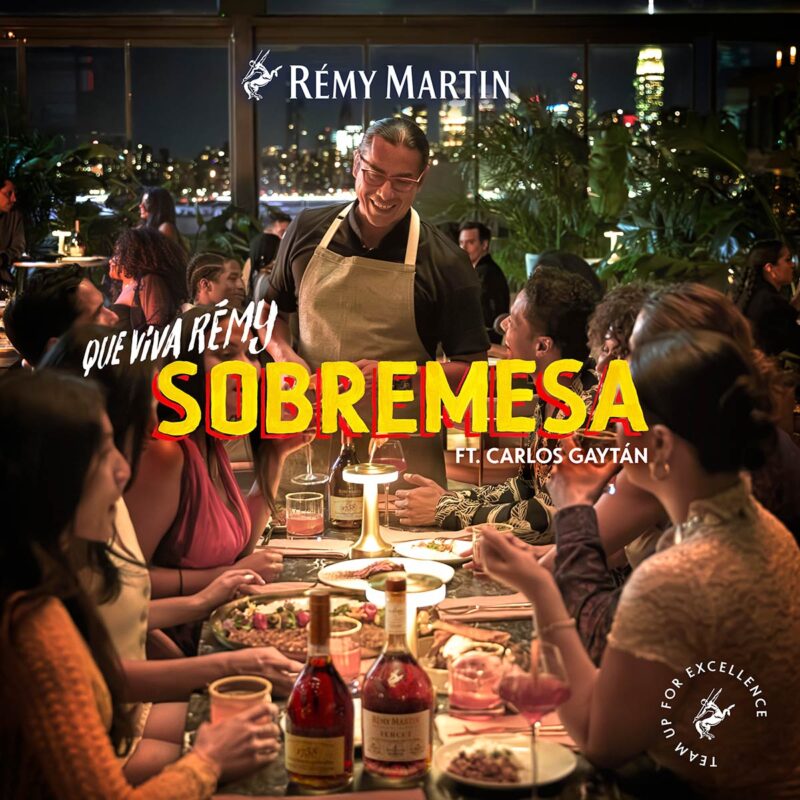 Que Viva Rémy Sobremesa
Rémy Martin continues its commitment to honoring the spirit of excellence through the ritual of Sobremesa, the moment after a meal where we keep the conversation going with authentic, compassionate, and genuine moments that bring us together.
read more
RECIPES BY CHEF CARLOS GAYTAN
TERCET Pear Espectro & Black Velvet Mascarpone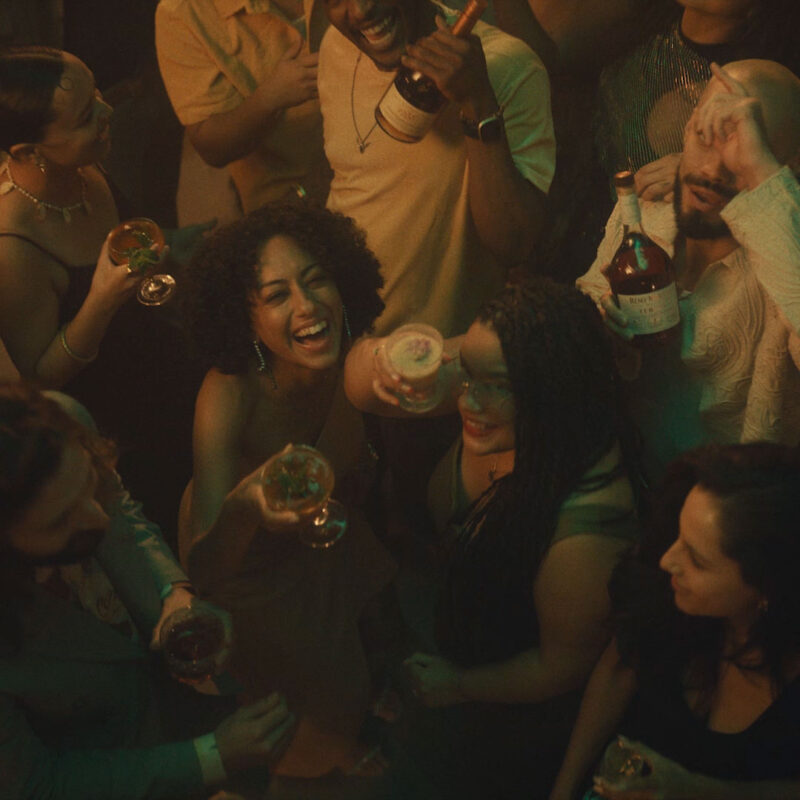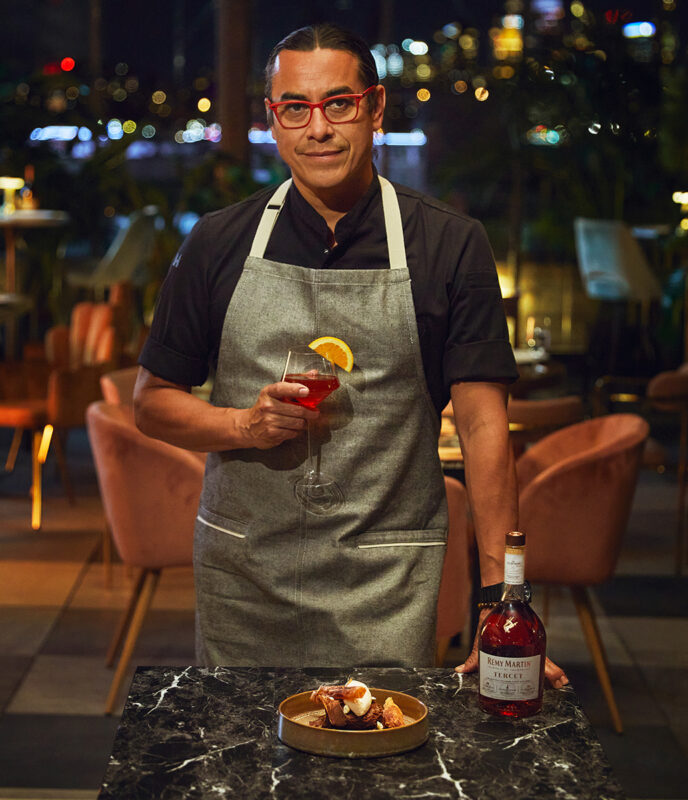 Mascarpone ice cream:
2.5 cups Milk
3 tsp Skimmed milk powder
2 Tbsp dextrose
2.5 Tbsp honey
3 egg yolks
0.5 cup sugar
0.5 cup mascarpone
Black garlic ganache:
156 grs. of cream 35%
12 grs black garlic
32 grs sugar
146 grs milk chocolate 40% caramelized
90 grs 62% Peruvian chocolate
42 grs butter
Cocoa sponge cake:
180 grs 64% chocolate
180 grs butter
240 grs sugar (1)
380 grs powdered sugar
380 grs almond powder
380 grs egg yolk
300 grs egg
260 grs egg whites
240 grs sugar (2)
200 grs flour
180 cocoa powder
Dark chocolate smoked woods:
70% chocolate
Cocoa powder
Cedar or oak chips
Dessert Assembly:

Toasted hazelnuts with gold
Black Velvet Mascarpone
Method
Mascarpone ice cream:
1. Infuse the milk with the honey and warm it.
2. As the mixture approaches a tepid temperature (around 120° F), incorporate the milk powder and dextrose using an immersion blender, then gently simmer the combined ingredients.
3. In a separate bowl, whisk the egg yolks with the sugar until they lighten in color. Gradually temper the egg yolks with a part of the hot mixture, continuing to whisk vigorously.
4. Place the mixture of the egg yolks back over on low heat, stirring continuously with a spatula until it reaches 80° C.
6. Pass the mixture through a fine sieve, then blend in the mascarpone using an immersion blender. Cool rapidly in an ice bath or using a blast chiller.
7. Process the mixture in an ice cream maker and transfer to a thermal or pre-frozen metal container for storage.
Black garlic ganache:
1. Heat the cream with the sugar and crush with the black garlic.
2. Strain and pour little by little on top of the melted chocolate with the butter, mixing constantly with a spatula, and stirring constantly with a spatula.
3. Emulsify with an immersion blender, trying not to add air, until a shiny and homogeneous ganache is obtained.
4. Store in a piping bag and use at 28°C.

Cocoa sponge cake:
1. Melt the chocolate with the butter.
2. Mix almond powder, sugar (1) and powdered sugar in a Thermomix until it forms a wet paste.
3. Put this paste in the Kitchen Aid with the eggs and egg yolks until doubled in volume and add the melted chocolate and butter.
4. Whip the egg whites with the sugar (2) and integrate to the first whipping (almond and sugar paste) with an enveloping movement.
5. Finally, mix the flour with the cocoa and sift over the batter as you mix.
6. Spread on a tray 1 cm thick and bake at 350°F for approximately 18 minutes (it should be at a height of 1.5 cm when baked).
7. Let cool, cut into circles of 7.5 cm in diameter and reserve in the freezer.

Dark chocolate smoked woods:
1. Temper the chocolate and spread with a spatula to a thickness of 2 mm on a baking paper, use a spatula to a thickness of 2 mm on a piece of baking paper.
2. With the chocolate still melted, cover with another piece of paper and roll up.
3. Leave to crystallize for at least one hour and unroll in such a way as to break up uneven pieces, and curved pieces are broken off.
4. With a little more tempered chocolate at the point of crystallizing, brush with a stiff bristle brush (not silicone) in an irregular way to get a rough effect.
5. Allow to crystallize and sprinkle with a little cocoa powder.
6. Keep in an airtight container and with the help of an electric smoker, smoke it with the cedar for 3 minutes so that it is immersed in the chocolate but not as an invasive aroma.
7. Store in a cool, dry place.
Assembly:
1. Place a circle of moist cocoa sponge cake on a plate.
2. Outline the sponge cake by making a circle of black garlic ganache.
3. Place a quenelle of the cognac ice cream and place 2 smoked chocolate woods, one resting on the ice cream and the other one lying on the ice cream.
4. Place 8 toasted half hazelnuts and serve.
Ingredients & directions
Tercet Pear Espectro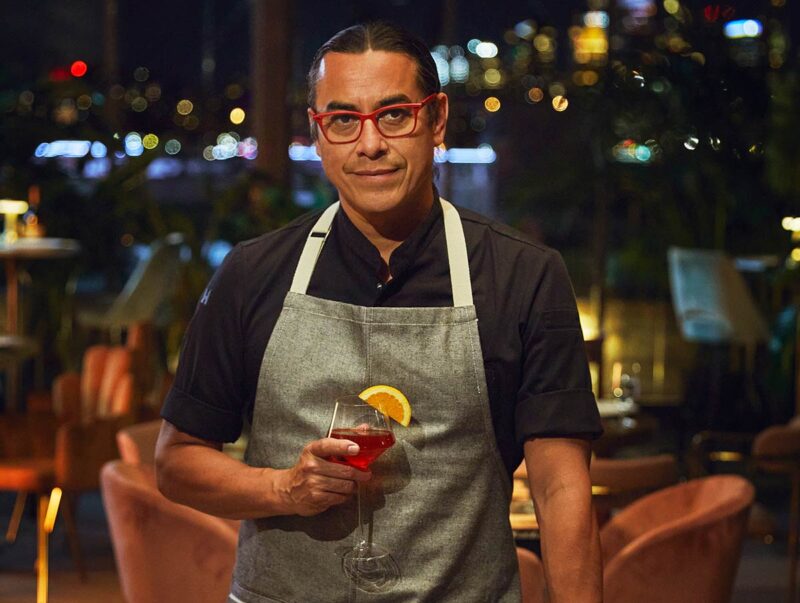 Ingredients:
2 oz Rémy Martin Tercet
1 oz Prickly Pear
1⁄8 oz Malort
1d orange bitter
Enriched Jícama Coral:
In an ISI canister add the following ingredients:
2800 g jícama milk (clarified through a coffee filter)
175 g Condensed Milk (sweetened)
15 g 4:1 Saline Solution
Method – Enriched Jícama Coral:
1. Charge using NO2 a total of three times shaking aggressively between each charge.
2. Fill a hotel pan with liquid nitrogen and discharge the ISI canister slowly to create "coral".
3. Break into pieces that will fit into the double rocks glass and freeze until ready to use.
Tercet Pear Espectro – Method:
Add Rémy Martin Tercet, Prickly pear purée, Malort, and orange bitters to a stirring crystal.
Dilute for about twenty seconds.
In a glass that you have prepared with your jicama coral shard present and pour table side (straining the ice away with a julep strainer).
Serve in Nick and Nora glass.
The Collection
Discover all our Cognacs